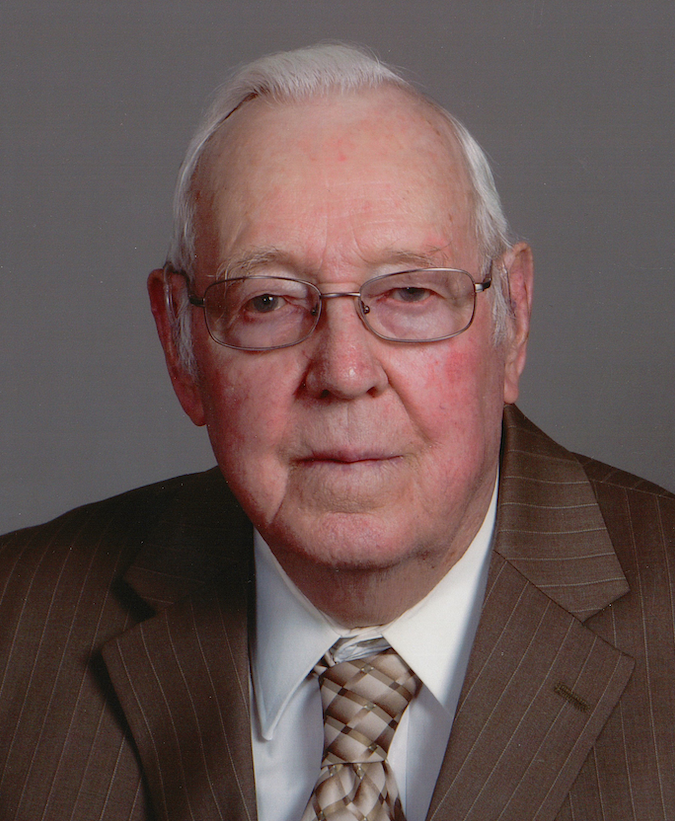 92
Baltic, SD
June 6, 2021
Verne Eugene Endahl was born June 15, 1928 in Baltic, SD to Julius and Cora Endahl. He passed on June 6, 2021 at the age of 92, 11 months and 21 days. Funeral services were held on Monday, June 14, 2021, at the East Nidaros Lutheran Church, rural Baltic. Interment was in the Pioneer Lutheran Cemetery, rural Baltic. Memorials may be directed to the East Nidaros Church, Pioneer Cemetery, or the Baltic American Legion's Baltic Area Veterans Memorial Fund.
Verne was baptized and confirmed at the East Nidaros Lutheran Church. He grew up in rural Baltic and attended the Thompson country school. He then attended Augustana Academy in Canton, SD where he was voted homecoming king as a senior and graduated in 1946. He attended agricultural training at South Dakota State University and Luther College in Decorah, IA.
Verne married Ione Hannemann of Ramona SD on November 25, 1950 at St John's Lutheran Church near Ramona. In January of 1951, Verne joined the military and was deployed to Korea. After being discharged in October of 1952, the couple moved to the Thompson-Endahl Homestead near Baltic. Verne built his family's home and farmed the first homestead in Minnehaha County from 1952 until they moved to Sioux Falls in 2011
Verne was an active member of East Nidaros Lutheran Church for many years, taught Sunday School, and served in many other capacities. He was also a member of the American Legion and Sons of Norway and he served on the Sverdrup Township board of supervisors.
Verne and his wife, Ione, enjoyed traveling and over the years traveled to every state in the United States. In 2015, Verne traveled to Norway, the country of his ancestors.
Verne was an avid pheasant hunter in his earlier years and participated on a bowling league somewhere in the middle. Woodworking, stain glass crafts and golf became a favorite pastime later in life which he was able to do into his early nineties.
As a father, Verne was always there for his children. He was very supportive and attended many sporting events, graduations, concerts, and whatever other activity the kids were involved in. As a neighbor, Verne could be counted on to help whenever needed.
Verne lived at the Good Samaritan Society, Sioux Falls Village from 2011 until his death. While there, he would set up and run the equipment for Movie Night, call bingo and worked on many a jig-saw puzzle. He also did his share of gardening.
Grateful for having shared his life are his children; Bob (April) Endahl, Brandon; Donna (Steve) Wegman, Pierre; Vonnie (David) Bartlett, Omaha, NE; Jean (Chuck) Waltz, Harrisburg; ten grandchildren; Mark Endahl, Craig Endahl, Kelli Sinksen, Rachel Micklos, Adriane Weippert, Dan Bartlett, Chad Bartlett, Rebecca Bartlett, Kelsey Waltz and Joshua Waltz; great grandchildren; Grant and Cora Endahl, Allyson and Lexi Sinksen, Makayla and Caleb Micklos, Phoenix and Arrow Bartlett; Silas and Simone Weippert.
He was preceded in death by his wife, Ione; his parents Julius and Cora Endahl and his two sisters, Annette Lepthien and Arlene Twedt.