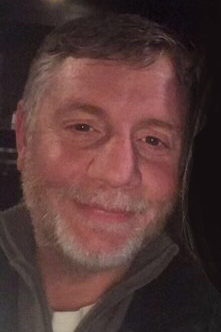 49
Dell Rapids, SD
October 7, 2021
Troy Trygstad, 49, of Dell Rapids, passed away on Thursday, October 7, 2021 at Avera McKennan Hospital in Sioux Falls. His Memorial Service will begin at 1:00 p.m. on Thursday, October 14, 2021 in the Lutheran Church of Dell Rapids. Visitation with the family present will be from 5:00 – 7:00 p.m. on Wednesday, October 13, 2021 at Kahler-Brende Funeral Home. www.kahlerfh.com
Troy Trygstad was born on March 17, 1972, to Gaylon and Linda (Connor) Trygstad. He grew up in Nunda, SD, until moving with his family for a short time to Nebraska and then returning to Nunda. He attended school in Rutland. While in high school he enlisted in the US Army National Guard. He served in the Army National Guard for 14 years. He graduated from Rutland High School in 1990. After high school he attended the School of Mines in Rapid City for a year and then SDSU in Brookings for a year. He then went to work for MMCA and sold investment securities. He married Laurie Becvar. To this union twin girls were born, Jessica and Elizabeth. The couple later divorced. He started his construction company and ran a mortgage and real estate company. He met Sarah Roseland in 2004. The couple married in 2013 where they made their home in Dell Rapids. To this union, a daughter, Elliott and a son, Gavin were born.
He was an avid Dallas Cowboys fan, he enjoyed reading, he loved the outdoors, but he was most proud of his children. He loved that his older daughters shared his love of music, he loved going to their concerts and listening to them sing and play their instruments. He loved teaching Elliott and Gavin new things and he loved reading with them.  
Troy is preceded in death by his paternal grandpa, Melford Trygstad and his maternal grandparents, George and Mildred Connor.
He is survived by his wife, Sarah of Dell Rapids; his children, Elizabeth and Jessica of Sioux Falls and Elliott and Gavin of Dell Rapids; his father, Gaylon (Nancy) Trygstad of Dell Rapids and his mother, Linda (Mike) Lesselyoung of Madison; his paternal grandmother, Wilma Trygstad; his brother, Eric (Karen) Trygstad of Nunda; his nephews, Bennet, Brandon and Isaac and his niece, Julia; step-siblings;  Ann (Ryan) Kueter of Sioux Falls, Keith (Kerrie) Johnson of Becker, MN, Dustin (Kelli) Johnson of Sioux Falls, and Tyler Johnson of Dell Rapids and his extended family and many friends.
The family prefers memorials in lieu of flowers to help with expenses.