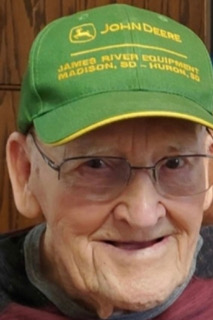 82
Dell Rapids, SD
May 22, 2023
Thelmar F. Jansma, age 82, Dell Rapids, passed away at his home near Dell Rapids. The funeral service was held Saturday, May 27, 2023, at 10 a.m. at Porter Funeral Home of Rock Rapids, IA, with Rev. Allen Brummel of Calvary Protestant Reform Church of Hull, IA officiating. Burial was at Hope Cemetery of Hull, IA. Visitation with the family present was held Friday, May 26, 2023 from 6 p.m. to 7:30 p.m. at Porter Funeral Home of Rock Valley, IA. Condolences may be left for the family at www.porterfuneralhomes.com.
Thelmar Frederick Jansma was born in Rock Rapids, IA, on October 31, 1940, to parents Peter and Anna (VanderKooi) Jansma. He died Monday, May 22, 2023, at home after a lengthy illness. Thelmar was raised in Hull, IA, and graduated from Hull Western Christian. He was a businessman and farmer with a love of over the road trucking. He retired from trucking at the age of 76. Thelmar married Martha VanKekerix on February 21, 1969, in Sheldon, IA. They ran laundromats until they began farming in 1981. Martha died April 30, 1994.
Thelmar is survived by his son, Tom, Dell Rapids; daughters, Patty (Ed) Durand, VanMeter, IA, Sandy Staskywicz (John Potrament), Dell Rapids; 5 grandchildren and 2 great-grandchildren, Luke Durand and his Oliver and daughter Harper, Maleah Durand, Cody Staskywicz, Cole Staskywicz, Chloe Staskywicz; brother, Andrew (Cindy) Jansma, Freeman; sister-in-law, Sue VanKekerix, Sheldon, IA; and numerous nieces and nephews.
Thelmar was preceded in death by his parents; wife; sister, Jeanene Jansma; brother, Wilmar; son-in-law, Paul Staskywicz; brother-in-laws, Raymond (Alice), Elmer (Helen), Howard, Weldon (Mildred) VanKekerix.