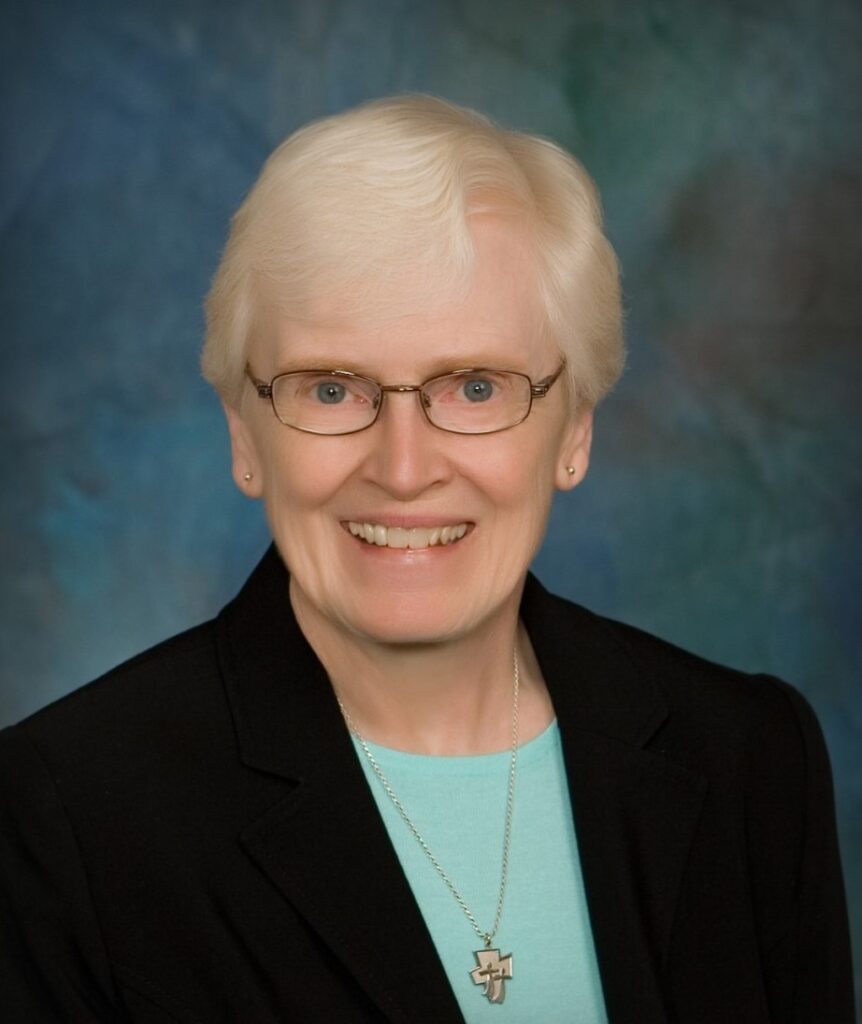 84
Faulkton, SD
October 31, 2022
Sister Darlene Gutenkauf, 84, a Sister of the Presentation of the Blessed Virgin Mary, died October 31, 2022 at Avera Mother Joseph Manor, Aberdeen.
Mass of Christian Burial will be held at 10:30am Saturday, November 5, 2022 at Blessed Sacrament Chapel at Presentation Convent, 1500 N 2nd St, Aberdeen, with visitation beginning at 9:30am. Reverend David Janes will be celebrant and homilist. Liturgical Wake service will be Friday, November 4, 2022 at 6:30 p.m. at Blessed Sacrament Chapel at Presentation Convent with visitation beginning at 5pm. Interment at Sacred Heart Catholic Cemetery. Spitzer-Miller Funeral Home, 1111 S Main Street, is in charge of arrangements. The services will be live streamed at www.spitzerfuneralhome.com.
Darlene Anne was born August 2, 1938 in Faulkton, SD to Magdalena (Waldman) and Harold Gutenkauf. She graduated from Hoven High School in 1956. She entered Presentation Convent January 2, 1959 and professed her vows August 10, 1961.
Sister Darlene attended Presentation Junior College, Aberdeen, SD, 1959. She earned a bachelor of science degree in Home Economics from South Dakota State University, Brookings, SD, 1971 and a master's in Pastoral Studies, Loyola University, Chicago, IL, 1986.
She served as a dedicated teacher in schools at Mitchell, Jefferson, Woonsocket, Dell Rapids and Aberdeen, Mound, Minn. and LeMars, Iowa from 1962-1984. In 1985, she became a member of several pastoral ministry teams, serving parishes in rural SD, including Timber Lake, and in the Benson, Minn. area. She helped develop, implement and facilitate intergenerational faith formation programs to foster parish leadership, preparing people for ministry in their parish. Sister Darlene served the congregation as Vocation Director for new members and later became the Director of the Cojourner Program for lay associates. She retired in Aberdeen where she was an active member of a local Parkinson's support group, the convent liturgical committee and a cantor at Mass. Sister Darlene was committed to lifelong learning and loved music, reading, cooking, traveling and visiting with relatives and friends.
Sister Darlene is survived by her community family of Presentation Sisters; brothers Arnie (Donna Jean) Gutenkauf, Dale (Jean) Gutenkauf; and many nieces, nephews and cousins. She is preceded in death by her parents and nephew Shane Gutenkauf. Pallbearers will be Vicki and Max Bent, Jeff, Chad, Mike and John Gutenkauf.
Funeral arranagmenets provided by Spitzer-Miller Funeral Home.