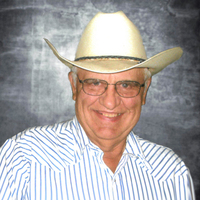 76
Tolstoy, SD
January 11, 2023
Roger Myron Simon, the second child of Sylvester and June (Norris) Simon, was born in rural Lebanon on July 6, 1944. Mass of Christian Burial was held Friday, January 20, 2023 and the Wake Service was held on Thursday, January 19, 2023, both at the Sacred Heart Catholic Church, Gettysburg.
He was a lifelong resident of Potter County, growing up in the Lebanon and Tolstoy areas. Roger graduated with the Class of 1962 from Gettysburg High School. While attending school, he was active in 4-H, FFA and excelled in showing Hereford cattle and swine. His true passion was horses and he was always happy to share that passion with family and friends. In 1962, Roger received the State FFA Star Farmer Award.
Roger attended SDSU briefly before returning home to farm with his father and brother. He married a beautiful neighbor gal, Carol Griese, and they began farming and ranching while raising a family.
Roger's life will be cherished by his wife of 56 years, Carol; his children Jeffrey (Terri), St. Charles, IL, Michelle (Mike) Steen Hettinger, ND, Stuart (Tammy), Tolstoy, Brian (Colleen), Seneca, Jason (Denise), Brookings, Kent (Lynn), Clear Lake and Karin (Roy) Schiley, Meadow; 21 grandchildren; five great grandchildren; two brothers Gale (Shirley), Mitchell and Craig (Sue) Albion, IN; two sisters Vesta (Warren) Erdahl, London, OH and LeAnn (Stuart) Harner, Mandan, ND; one sister-in-law, Janice Simon Riekens, Weslaco, TX; and numerous nieces, nephews and cousins.
He was preceded in death by his parents, one brother Dencel; daughter-in-law, Trish Simon.
Interment was at St. Mary's Catholic Cemetery, Lebanon.
Funeral Services were provided by Luce Luze & Reck Funeral Home.