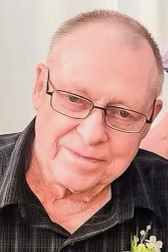 83
Dell Rapids, SD
September 16, 2021
Richard "Dick" Gannon, 83, of Dell Rapids, passed away on Thursday, September 16, 2021 at the Dells Nursing and Rehab Center. His Mass of Christian Burial will begin at 10:30 a.m. on Monday, September 20, 2021 in St. Mary Catholic Church. Interment will be in St. Mary Cemetery. Visitation will be from 1:00 – 4:00 p.m. on Sunday, September 19, 2021 at Kahler-Brende Funeral Home. The Christian Wake Service will begin at 4:00 p.m. with a Catholic Order of Foresters Rosary to follow. www.kahlerfh.com
Richard "Dick" Dale Gannon was born to Cletus and Delia (Day) Gannon on April 2, 1938 in Dell Rapids. He grew up on a farm west of Dell Rapids, and attended St. Mary School. On August 22, 1959 he married Rosalie Van Dam in Dell Rapids. To this union four children were born.
In his youth, he enjoyed horseback riding, hunting and fishing. Although he never graduated from high school, he went on to become an accomplished carpenter and contractor, traveling to various states working on big projects for Mortenson and Witcher companies in the 1980's and 1990's.
In his retirement he helped out at St. Mary's on the Grandpa Crew doing odds and ends around the St. Mary Campus. His handiwork can be seen on the St. Mary Altar.
Richard is preceded in death by his parents, and his three brothers, Lawrence, Donald and George.
Richard is survived by his wife of 62 years, Rosalie of Dell Rapids; his children, Renae (Tom) Mergen of Dell Rapids, Kim (John) Bunkers of Dell Rapids, Rodney Gannon of Rochester, MN and Paul (Tammy) Gannon of Dell Rapids; his eleven grandchildren, Kelly (Jenni) Mergen, Katie (Heath) Abraham, Eric (Morgan) Mergen, Rane (Aneta) Mergen, Chris (Ashlee) Bunkers, Caitlin Bunkers, Colby (Kaitlin) Bunkers, Rich (Kayla) Gannon, Luke Gannon, Tyler Gannon, Cody (DJ) Gannon; his 13 great-grandchildren; his brothers, Eugene Gannon of Des Moines, IA, Gerald (Deb) Gannon of Worthing; his sister, Donna Entringer (John Nelson) of Sioux Falls; his sisters-in-law, Doris Singer of Falcon Heights, MN and Julie Abrahamson of Sioux Falls and his many nieces, nephews and extended family.
Memorials may be directed to the St. Mary Campus Renewal Fund.