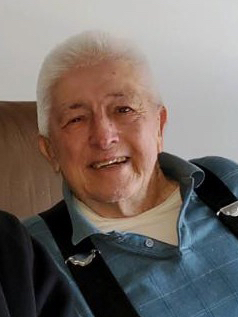 87
Dell Rapids, SD
Wednesday, January 29
Raymond D. Crisp, 87, of Dell Rapids, passed away on Wednesday, January 29, 2020 at the Avera Dells Area Hospital. His funeral service will begin at 10:30 a.m. on Saturday, February 1, 2020 in the United Methodist Church, Dell Rapids. Visitation on Friday, January 31, 2020 will begin at 1:00 p.m at Kahler-Brende Funeral home with the family present from 5:00 – 7:00 p.m. www.kahlerfh.com.
Raymond was born in Dell Rapids, SD on February 27, 1932, the son of Maurice and Florence (Hart) Crisp. He grew up on the family farm east of Dell Rapids. He attended grade school in the Hart Country School. He finished his schooling in Dell Rapids. He married Margaret DeJong on November 28, 1953. Soon after their marriage he was drafted into the US Army. After two years he was discharged and continued farming until his retirement. Margaret died on November 28, 2014. After Margaret's death Raymond moved into Dell Rapids.
He was a member of the United Methodist Church in Dell Rapids, a lifetime member of the Elks Club in Sioux Falls and a board member of the Dell Rapids Cemetery. He enjoyed his season tickets to the Sioux Falls Canaries, Sioux Falls Skyforce and Augustana Basketball.
He is survived by his son, Gary (Linda) Crisp of Brandon; his daughters, Nancy (Curt) Andersen of Colton, and Cindy Crisp (George Breen) of Dell Rapids; two grandchildren, Timothy (Kimberley) Bares of Acton, CA and Jessica (Joshua) Willprecht of Dell Rapids; his four great-grandchildren, Jacob, Jenna, Jase Willprecht and Jordyn Bares; his step-grandson, Ben DeSchepper (Mandy) of Sioux Falls and five step-great grandchildren, Trevor, Shelby, Nicholas, Sean and Jacob.
Raymond is preceded in death by his parents, his wife, Margaret and and his brother, Duane.