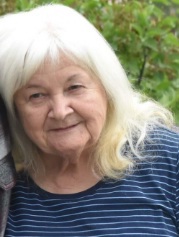 80
Dell Rapids, SD
October 11, 2021
Patricia 'Trish' Ann Gildemeister, 80, of Dell Rapids, S.D., died Monday, Oct. 11, 2021, at Avera McKennan Hospital in Sioux Falls, S.D.
Funeral services were held on Friday, Oct. 15 at Baltic Lutheran Church with interment at West Nidaros Lutheran Church Cemetery, rural Crooks.
She was born April 1, 1941, to Walter and Margaret (Johnson) Tidemann in Pipestone, Minn. The family lived in Walnut Grove, Minn., and later Omaha, Neb., before moving to the Sioux Falls area where they lived on the 1875 ancestral homestead south of Baltic and later in Dell Rapids and Baltic.
The first of four siblings, Patricia graduated from Baltic High School in 1959 and shortly later married William Neises. She later attended Nettleton College in Sioux Falls. They lived in Dell Rapids and Sioux Falls with their three children, Paula, Cory and Kimberly.
She married Harvey Gildemeister in 1968 in Sioux Falls. They had two children, Stephanie and Mark.
She later shared her life with special friend James Woods of Sioux Falls for 12 years before he passed away from COVID Oct. 15, 2020.
Patricia was a tireless hard worker her entire life, starting as a waitress at Benjamins' Café in Baltic when she was 11. She also worked as an administrative assistant and realtor for several years in the Sioux Falls area. She was an Avon representative for over 50 years. She was a professional tailor for several stores in Sioux Falls for many years before she opened Trish's Tailoring in Dell Rapids which she operated until shortly before her death. Patricia was extremely patriotic. She repaired American flags for free and sewed patches and insignias for members of the military, sheriff's deputies and the Highway Patrol. She made many masks to protect people from COVID at no charge.
She leaves five children: Paula (William) Reynolds, Rapid City, S.D.; Cory (JoAnn) Neises, Sioux Falls; Kimberly (Daniel) Wells, Worthing, S.D.; Stephanie Gildemeister, Seattle, and her special friend, T.J. O'Brien and Mark Gildemeister, Sioux Falls. She also leaves seven grandchildren: Aaron Hoop, Breanna Hoop, Jesse Lokken, Brandy Lokken, Brian Wells, Nicole Neises and Lizzy Montgomery; and 11 great-grandchildren. She also leaves two siblings, Karen (Kenneth) Trottman, Spokane, Wash., and Michael Tidemann, Estherville, Iowa.
She was preceded in death by her parents; brother David; special friend James Woods; and great-grandson Mason Lokken.
Minnehaha Funeral Home of Baltic is in charge of arrangements.