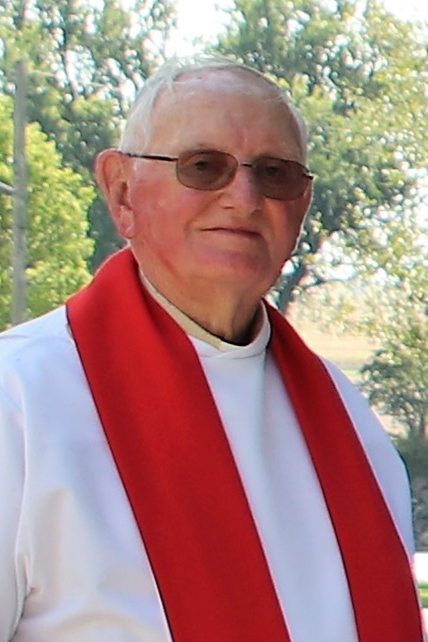 85
Dell Rapids, SD
February 28, 2022
Eldon Thurow, age 85 died unexpectedly on Feb 28th at Avera McKennan Hospital in Sioux Falls, SD.  He was born in Ramona, SD on Dec 23rd, 1936. He graduated from Augustana College in 1966 and went on to Lutheran Seminary to graduate with a degree in Divinity. He married Lillian Hansen in 1956. Lillian passed away in 2004. Eldon married Donna Hamer in 2005.
Eldon was a called servant of God, proclaiming God's Grace in the world.  He shared his skilled hands, strength, and heart with anyone in need.  He loved people — Especially his family and members of the rural congregations he served in SD, MN, and WI over 50 years of ordained ministry. He enjoyed spending time with family, watching sports (especially Augustana University), and his beloved dog, Stetson.
Pastor Eldon was given a special gift from God; He was called to many congregations who were experiencing problems. When he left they were united and ready to heal. He was dearly loved wherever he served.
Let all who encountered Eldon celebrate the impact of his life this day!
Family celebrating his life include: wife Donna Thurow (Hamer) of Brandon; four sons, Randy (Miriam) Thurow, Rodney Thurow, Herbert (Kathy) Hamer and Jeffrey (Darla) Hamer; nine grandchildren, Kai (Lauren) Thurow, Kyra (Alan) Thurow Barton, Zeffen Thurow, Zetta Thurow,  Elizabeth (Jake) Sheffield, Bradley (Stephanie) Hamer, Hope (Dusty) Stultz, Ashley Hamer (Lance Richter) and Alexander Hamer (Taylor Freeman);  and nine great-grandchildren, Kaden Thurow, Cameron Thurow, Carson Sheffield, Morgan Sheffield, Rayleigh Stultz, Emma Stultz, Bristol Stultz, Talya Stultz and Ryder Richter. 
He's preceded in death by his first wife Lillian Thurow, brother Dennis Thurow, sons Timothy Hamer and Joel Hamer.
Eldon's funeral service will begin at 11:00 on Thursday, March 3, 2022 in the Lutheran Church of Dell Rapids (LCDR). Visitation will be from 4:00 p.m. – 7:00 p.m. at Kahler-Brende Funeral Home on Wednesday, March 2, 2022 and resume one hour prior to the start of the funeral service at the LCDR Chapel. Interment is set for 9:30 am on Saturday, March 5, 2022 at a family plot located in Zur Ruhr Cemetery, Cedarburg, WI.
Memorials may be directed to: Agape' + Kure Beach Ministries, 1369 Tyler Dewar Lane, Fuquay-Varina, NC 27526; or the ELCA World Hunger %Eldon Thurow Memorial Fund; or the memorial of your choice.
www.kahlerfh.com.