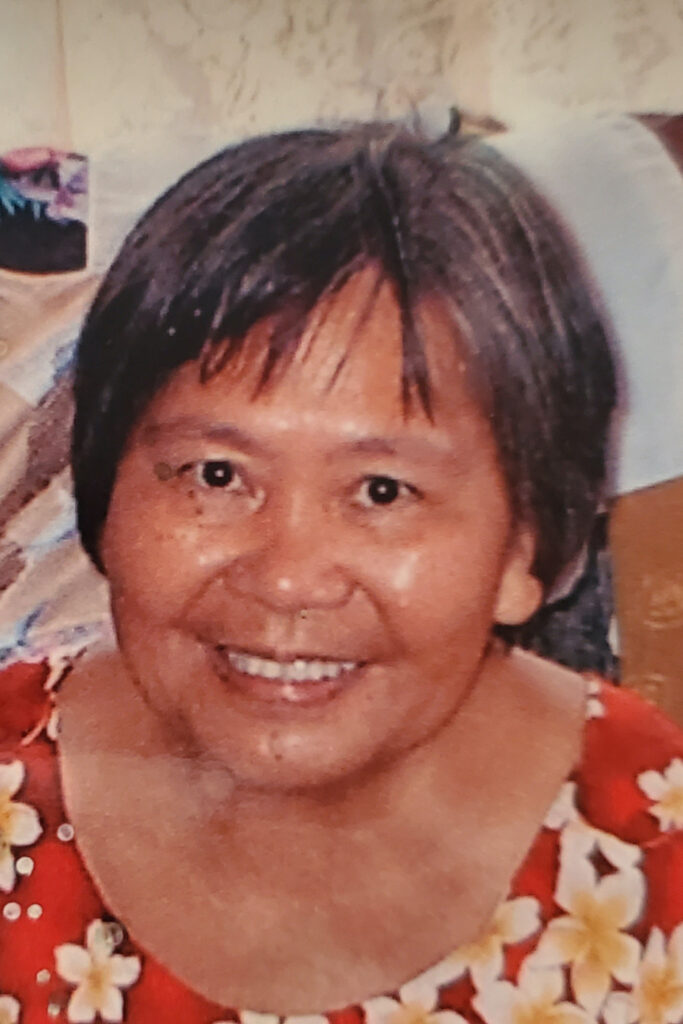 80
Sioux Falls, SD
September 28, 2020
Loreto Serna (Formantes) 80 years old, passed away peacefully under hospice care on Tuesday September 22nd, 2020 in Sioux Falls, SD. Her funeral service will begin at 2:00 p.m. on Monday, September 28, 2020 in Calvary Chapel in Sioux Falls, SD. Visitation will be one hour prior to the start of the service. Internment will be in the Riverview Cemetery, rural Trent. www.kahlerfh.com
Born on December 10th, 1939 in Laoag City, Philippines, and raised in Ilocos Norte province, Loreto was one of ten siblings.  She received a teaching degree in Elementary Education.  She married a stevedore, Pablo Serna, on May 25th, 1968 and moved to Hawaii.  In December of 1969, they welcomed the arrival of their only child, Jane, into the world.  In 1972, Pablo passed away.  Loreto remained a widow until her passing.  For income, she rented out rooms in their house to family and strangers alike.
After Jane was swept away by a Marine in 1993, Loreto remained living in and renting out rooms of the house until her health prevented her from doing so.  In June of 2019, Jane and her family in Sioux Falls welcomed Loreto into their home where she was diagnosed with dementia and, later, breast cancer.  She had a mastectomy in December and went to a nursing home to recover.  Due to her dementia, and the care she needed, the decision was made to move her to a memory care unit at Trail Ridge Assisted Living Center in Sioux Falls.  She made new friends there each day, even if they were the same faces.
She enjoyed singing hymns and watching game shows and the news.
Loreto is preceded in death by her husband, Pablo, and her siblings Calixta, Leoncia, Nicepostrata, Tomasita, Alejandra, Daniel, Leonardo, and Edita.  She is survived by her sister Hildagarda and her daughter, Jane Mattson (Brian), granddaughter, Lyssa Szczawinski (Jesse), and grandson, William Mattson.