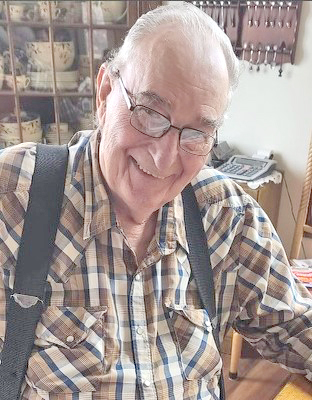 85
Trent, SD
December 6, 2021
Lee Andrew Anderson, age 85, of Trent, passed away on Monday, December 6, 2021, at Sanford USD Medical Center in Sioux Falls.
Mass of Christian Burial will take place at 1:00 PM on Friday, December 10, 2021 at St. Peter's Catholic Church in Colman, SD with Fr. Melvin Kuhn Celebrating. Burial will follow at the St. Mary Catholic Cemetery in Dell Rapids, SD.
Visitation will be Thursday, December 9th from 5:00 to 7:00 PM with a 7:00 Vigil service at the Minnehaha Funeral Home in Dell Rapids, SD.
In lieu of flowers family wish memorials which will be directed to LifeScape and Dakotabilities.
Lee Andrew Anderson was born at Huntimer, SD on December 6, 1936 to Fred and Verena (Heinemann) Anderson. He grew up around Dell Rapids and attended St. Mary's Catholic school.
He started painting at age 14 with Art Fredrickson's Painting. He later took over the business in 1970 and named it Lee Anderson and Sons Painting. He kept painting until his retirement. Lee married Marlys Nelson of Trent, SD on January 26, 1955. They moved near Trent and started farming in 1960 and farmed for 38 years.
Lee belonged to St. Mary Catholic church in Dell Rapids and St. Peters Catholic Church in Colman, SD. He belonged to the Catholic Foresters of Dell Rapids since he was a boy. In later years he enjoyed wood working, making lawn ornaments, yardwork, fishing, and summertime down to the river with Life Scape / Dakota Ability. He loved dancing with his wife at R-Kota Ball Room, and the Moose Lodge. He and Marlys also enjoyed wintering in Texas since 1997 where they made many new friends. Another fine enjoyment at his table, was the door was always open for advice, comradery, and squirrel pie with coffee.
Lee is survived by his wife of nearly 67 years, Marlys Anderson of Trent, SD; son, Lee (Lisa) Anderson Jr. of Chugwater, WY; daughter, Pam (Bob) Dickey of Trent, SD; sons, Terry (Denise) Anderson of Trent, SD and Kevin (Shellie) Anderson of Trent, SD; daughter, Julie (Dan) Kirlin of Avoca, MN; 23 grandchildren; 35 great grandchildren and 5 great-great grandchildren; sisters, Betty Bunkers of Dell Rapids, SD, Alice Doherty of Iowa, Judy Jordan of New York, Karen Overson of AZ , and Jeanie Carder of CO.
He was preceded in death by his parents, Fred and Verena Anderson; stepfather, Alvin Schettler; brother, Curt; sisters, Alverda and Mary Ellen.