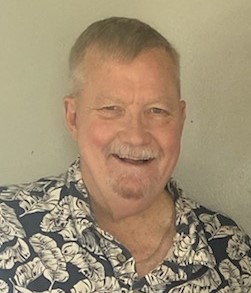 65
Sioux Falls, SD
March 15, 2022
Kenneth Leroy Tommeraasen, age 65, of Sioux Falls, formerly of Baltic, passed away Tuesday, March 15, 2022, at Dougherty House Hospice in Sioux Falls. Memorial services were held 10:30 AM Saturday, March 19, 2022, at Baltic Lutheran Church. Interment was in the St Olaf Cemetery, Baltic. In lieu of flowers, memorials may be directed to the Fraternal Order of Police in Sioux Falls or Baltic Lutheran Church.
Kenny was born on September 9, 1956 in Sioux Falls, SD. He was baptized on September 23, 1956 at First Lutheran Church, Sioux Falls, SD and was confirmed on September 26, 1971 at Baltic Lutheran Church. Everyone who knew him called him Kenny or Ken or Tommy.
 In August of 1962 he started first grade at Evergreen School District 118 thru second grade. He moved to Baltic, SD in August 1964 where he attended 3rd grade through his Senior year. He graduated from Baltic High School on May 13, 1974.
Ken was involved in athletics all through high school. He was named to the All-Conference offensive team and received a trophy as a halfback. He received a trophy for outstanding band member his Senior year while participating as a percussionist. Ken was a member of the Baltic track team, and set 9 new school records and he received various other track medals.
Ken owned several cars growing up. The last car he bought before getting married was a silver 1976 Chevy Camaro with red interior. This was a sweet car that he enjoyed. Somewhere in between he owned two motorcycles. He sold both when he finished motorcycle accident investigation while with the Sheriff's Department as he said they were too dangerous. 
 Ken started working at John Morrell in Sioux Falls, SD in October of 1974. During the last few
 years at John Morrell he joined the Minnehaha County Sheriff Reserves and was officially sworn in on June 6, 1979 as a reserve deputy sheriff for Minnehaha County and stayed in the reserves until 1983. He quit John Morrell to work full time at the Minnehaha County Sheriff's Department on November 1, 1983 where he worked until his retirement on September 3, 2007 after 24 years of service. His fellow officers were family in his eyes, he always had a story to share of their shenanigans both on and off duty. He enjoyed the work but did not regret retiring at the age of 50. In retirement he fished, golfed (not as much as he would have liked), camped and enjoyed shooting league 8-ball and 9-ball.
 Ken met Wanda Fenstra on March 25, 1978, they dated and were engaged on November 11, 1978. They were married on June 30, 1979 at First Presbyterian Church in Sioux Falls, SD. They bought their house in March of 1982 in Baltic SD where they raised a son, Gary, and a daughter, Ann. Ken and Wanda moved to Sioux Falls after Wanda's retirement in May 2020 where he resided until his death.
Ken was a proud dad to Gary and Ann (and Evan). Even more so he was a very proud grandpa to Hadley and Carter. They were the light of his life, especially in his retirement, and never missed an opportunity to spend time with them. They loved his famous homemade mac and cheese, and his cheese soup that was only made at Christmas time. He was an avid cook and never made a bad meal.
Survivors in include his wife, Wanda, Sioux Falls; children: Gary, Mobridge, and Ann (Evan) Buckmiller, De Smet; grandchildren: Hadley and Carter Buckmiller; sister, Alana Tommeraasen, Baltic, Dale (Jerlyn) Tommeraasen, Brandon, Anita (Scott) Getz, Dell Rapids, and Kevin (Tami) Tommeraasen, Lake Norden; and many other relatives and friends. He was preceded in death by his parents, Allan and Rose (Baker) Tommeraasen; brothers, Terry, Larry, and Jim Tommeraasen; Wanda's parents, Raymond and Beverly Fenstra; and a sister-in-law, Tari Fenstra.