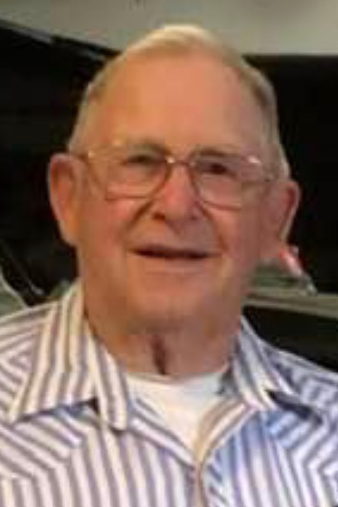 90
Dell Rapids, SD
September 5, 2022
John "Jack" Schwebach, 90, of Dell Rapids, passed away on Monday, September 5, 2022 at the Dougherty Hospice House in Sioux Falls. His Mass of Christian Burial will begin at 10:30 a.m. on Thursday, September 8, 2022 in St. Mary Catholic Church, Dell Rapids. Interment will be in the Dell Rapids Cemetery. Visitation will begin at 4:00 p.m. with the family present from 5:00 p.m. – 7:00 p.m. and the Christian Wake Service beginning at 7:00 p.m. at Kahler-Brende Funeral Home on Wednesday, September 7, 2022. www.kahlerfh.com
John "Jack" Joseph Schwebach was born on January 6, 1932 in Dell Rapids, SD, the son of John and Caroline (Kottmann) Schwebach. He grew up in Dell Rapids and graduated from St. Mary School in 1950. He farmed with his dad until enlisting in the US Navy on August 28, 1951. He was honorably discharged in August of 1959 after serving four years of active duty and four years of on call back duty. While stationed in San Diego, He met and married the love of his life, Velma Simpson on January 6, 1956. The couple moved back to the local area where Jack farmed until 1975. He then owned the Dells Bowling Alley before starting Dells Farm and Tire while continuing to drive school bus for the Dell Rapids School district for over 45 years. Velma died on April 20, 2015.
Jack was a member of St. Mary Catholic Church, the Dell Rapids American Legion and the Catholic Order of Foresters.
He was preceded in death by his parents, his wife, his sons, Rodney and John, his daughter, Doris Hanson; his sons-in-law, Stan Hanson and Gene Crow and his siblings, James, Ceal, Rose, Am, Linus, Sylvester and Daniel.
He is survived by his children, Debbie Crow, (Glenn Roemen), Robert (Pam Moe) Schwebach, Dave (Shelly) Schwebach, Dawn Edmonson, Lisa (Leon) Busser, Vicki Schwebach and Roy (Christine) Schwebach; grandchildren, Lavonne Hanson (Scott Huseth), Stanley (Shirley) Hanson, MaryAnn (Randy) Martin, Crystal (Brad) Kansanback, Shanna Crow (Brian Mosley), Heather (Jared) Bonetti, Michael (Jill) Schwebach, Jon (Miranda) Schwebach, Amber (Kody) Groff, Joshua (Lydia), Joseph and Justin Edmonson, AJ (Karissa), Ben, Jake (Katie), Matt (Nicole Jurrens) Busser, Sarah (Lucas Bennett) Fischbeck, John (Natalie Brooks) Fischbeck, Rachael(Larry) Weissenburger, Jeff (Tylene) Schwebach, Andrea (Dylan) West and Phillip (Allie) Schwebach; his 36 great-grandchildren and 6 great, great-grandchildren; and his sisters, Barb (Vince) Ahlers and Carolyn Drew.