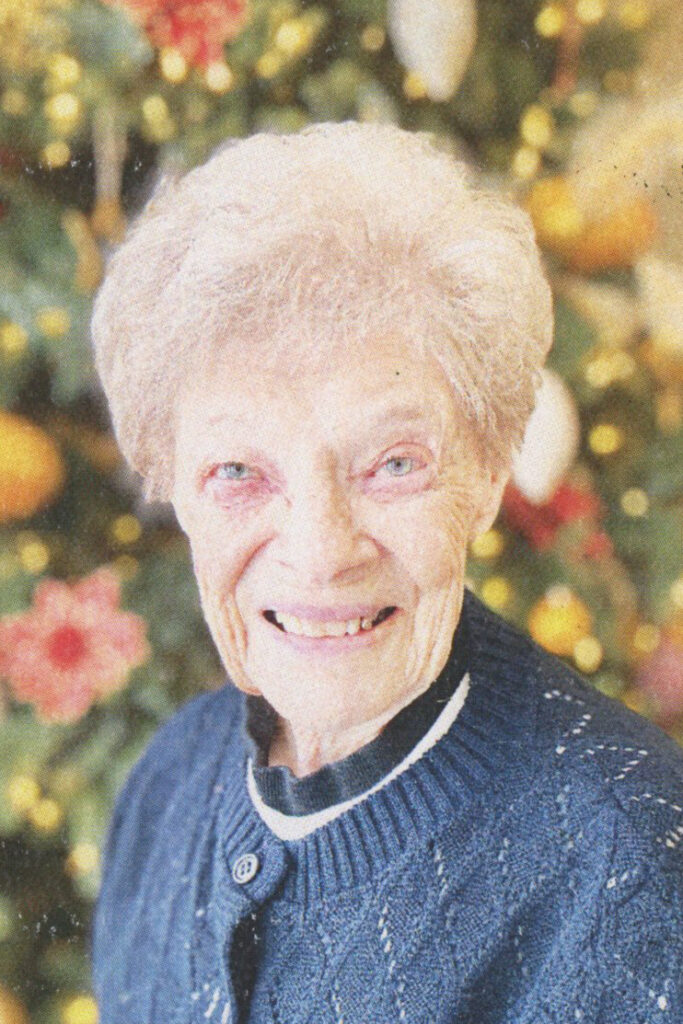 93
Sioux Falls, SD (Formerly of Dell Rapids)
February 16, 2023
Joan V. Rasmusson, 93, of Sioux Falls, formerly of Dell Rapids, passed away on Thursday, February 16, 2023 at Grand Living At Lake Lorraine. Her funeral service was at 2pm on Tuesday, February 21, 2023 in the Lutheran Church of Dell Rapids. Visitation was two hours prior to the start of the service in the church.
Memorials may be directed to the Dell Rapids Relief Fund (www.dellrapidsrelief.com) or the Dell Rapids Trailway Fund, c/o Sioux Falls Area Community Foundation 200 N. Cherapa Place, Sioux Falls, SD 57013 (www.sfacf.org/).
Joan Virginia Ollig Rasmusson was born December 28, 1929, in Waverly, MN. Joan's parent's, Loren and Hazel, started an independent telephone company in 1926 that survived the Depression and ultimately served rural town in Minnesota, South Dakota and Iowa. An older sister, Helen died in 2002. Baby sister Gail, born when Joan was a college, lives in Phoenix, AZ.
Joan left her Lutheran heart at St. Olaf college to pursue a Bachelor's Degree in education at Macalester College. Upon graduation, she fled Minnesota winters to teach first grade in Long Beach, CA. There, at a Methodist church mixer, she met US Navy LTJG John Rasmusson. They married March 23, 1957, and were fast partners in family, faith and community service.
After the Navy, John worked as a civil in Kansas City. He joined Joan's family's telephone business in 1962 and Joan and John moved first to Ada, MN then to Dell Rapids. They built a house at the edge of town. John was President of Sioux Valley Telephone Company and Hills Telephone Company and later CEO of Ollig Utilities. Joan, foremost a homemaker and mother,
sat on the Ollig Utilities board of directors. The Lutheran Church of Dell Rapids was their second home. They raised three children: Peter, 63 Sioux Falls, Pam 61, Chatham, NY and Laurie 59, Washington DC. When the next emptied, Joan turned to swimming, travel, church, PEO activities, friendships and always enthusiastic involvement in the lives of her children and grandchildren; her sister Gail and her four children and her mother Hazel, who died in 2006 at age 103.
In 2011, John and Joan moved from Dell Rapids to Sioux Falls. They joined Peace Lutheran Church and made new friends even as they remained close to the Dell Rapids community.
John died suddenly in 2016. Joan, unable to live independently found a beautiful and caring home at Grand Living At Lake Lorraine There, on February 16, 2023, she slept peacefully away.
Her kindness, her lipstick bright smile and her unique knack for turning life's pain and losses into gratitude are a balm and inspiration to her loving survivors; sister, Gail; children, Peter Rasmusson, Pam Carroll and Laurie Wolfert; son-in-law Oliver Wolfert; grandchildren, Megan Carroll-Kulick (Aaron) and Matt Carroll-Dunne (Lea); Christian, Wesley, Evan and Ryan Rasmusson and Claire and Eliot Wolfert; great-grandchildren Lily and James Kulick and Iver Carroll-Dunne; nieces and nephews, Kris Merkins (Rich), Jim Ellefson (Cindy), Nancy Merkins and MaryBeth Ellefson; DJ Lillard (Danielle), Shanyn Lillard-Smith (Adam) and Brant Lillard; great niece and birthday twin, Hazel Smith; great nephews, Gunnar Smith and Isaac Lillard.
Funeral services provided by Kahler-Brende Funeral Home.