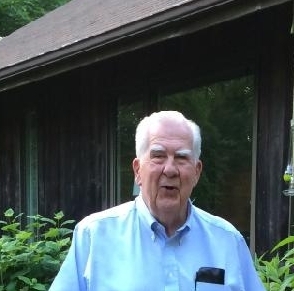 85
McLean, VA
June 17, 2022
James "Jim" Kent Gannon, 85, McLean, VA, passed away in his sleep on June 17, 2022 at home. A Rosary will be prayed at 9:30 a.m. with his Mass of Christian Burial beginning at 10:00 a.m. on Monday, June 27, 2022 in St. Mary Catholic Church, Dell Rapids. Interment will be in the St. Mary Cemetery, Dell Rapids. www.kahlerfh.com
Jim was born June 13, 1937 in Armour, SD, the son of Liguori "Larry" and Doris (Johnson) Gannon. Jim grew up on the family farm near Dell Rapids and attended St. Mary's School. Jim graduated in May 1962 with a Bachelor's degree from SDSU in Brookings SD.
Jim married Renelle Gannon on March 3, 1972 in Sande, Germany. The couple resided in many places including Germany, Minnesota and Virginia. Jim was a member of St. James Catholic Church in Falls Church VA. He greatly loved his wife, children, and grandchildren and they greatly loved their "Pepe". Jim's passion was getting to know people and he never knew a stranger. His kindness, humor, and love for people will be greatly missed.
Jim served in the US Army, including one tour in Vietnam, and received a Bronze Star for his service. He worked for Mitre Corporation for many years where he was a Computer Systems Engineer. He received many accolades for his work, before he retired in 2012.
Jim is survived by his wife, Renelle of McLean VA; children, Monica Gannon of Atlantic IA, Patricia (Rodney) Goodemote of Stanton IA, Gregory (Alessandra) of Jeffersonton VA; grandchildren, Fellissimo and Maximilian Gannon of Jeffersonton VA, Bethany, Isaac and Beverly Goodemote of Stanton IA; and brothers, John (Mary Jo) Gannon of Mesa AZ, Denny (Mary) Gannon of Dell Rapids, Mark (Gail) Gannon of Boseman MT; sisters-in-law, Shirley (William) Gannon of Sioux Falls SD and Carol (Virgil) Gannon of Tea SD.
Jim was preceded in death by his first wife, Ellen (Pottebaum) Gannon: his parents Larry and Doris Gannon; his brothers, William "Bill" and Virgil Gannon and his sister Sharon "Kay" Gannon.
In lieu of flowers memorial gifts may be made for St. James Catholic Church in Falls Church VA.