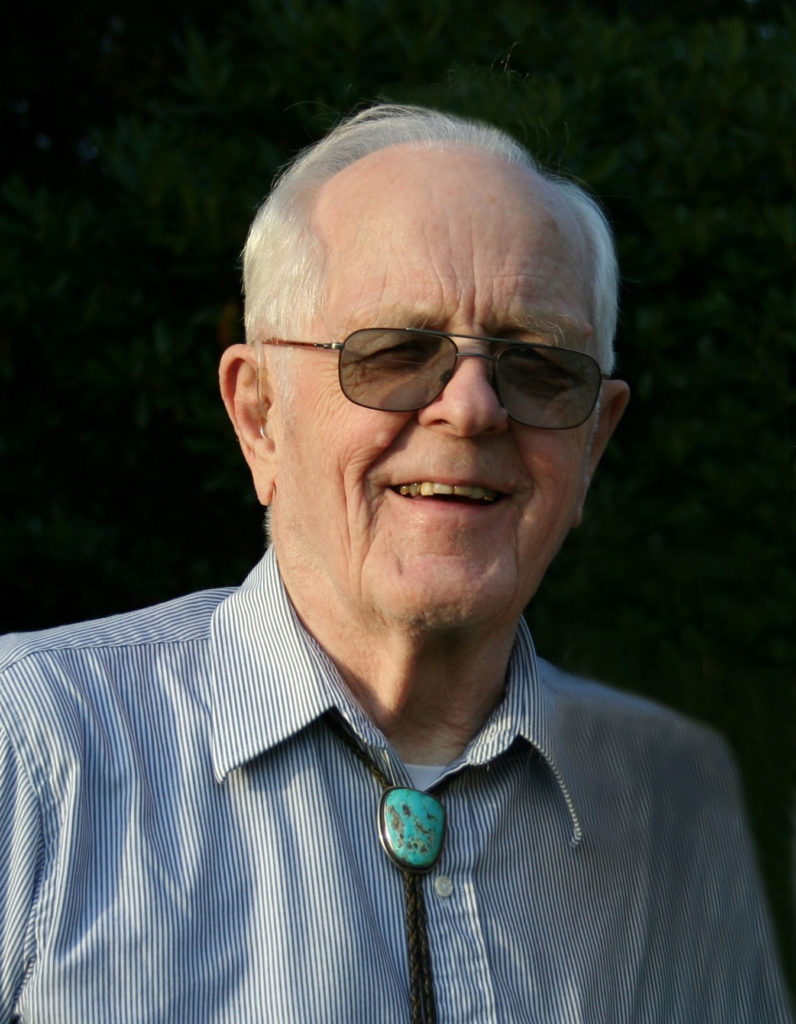 95
Sioux Falls, SD
Tuesday, Feb. 18, 2020
Howard Annes Hovland , age 95, of Sioux Falls, died on Tuesday, February 18, at his home in Sioux Falls. Funeral services will begin at 11:00AM Saturday, February 29, 2020, at First Lutheran Church in the Christ the Victor Chapel in Sioux Falls. Visitation will be 1 hour prior to the service. Interment will be in the Pioneer Cemetery, rural Baltic.
Howard was born July 17, 1924 to Christian and Anna Marie (Barnes) Hovland on a farm near Elmore, MN. He was baptized and confirmed in the Lutheran church and continued actively serving until his health deteriorated in the last several years. He attended country school where his older brother Telford helped him learn English–although he was able to remember Norwegian during later travels to Norway. After the family moved, he and twin brother Harold, graduated from Kiester (MN) High School in 1943. He was able to join the Army/Air Force and learn to fly. He maintained his license for several years.
After WWII, he earned an Associates degree in 1946 from Waldorf Jr. College in Forest City, IA and in 1950 received a Bachelors of Arts degree from Augustana College in Sioux Falls, SD. In 1950, he married Eunice Eide at Willow Creek Lutheran Church, rural Dell Rapids. He went on to receive his Masters degree from Colorado State College in Greeley, CO, after which he did further graduate work at numerous other universities. He built a house in Hartford, SD, where he worked for 4 years in the high school as the acting principal, industrial arts teacher, coach, and music director. In 1955-1956, both Howard and Eunice taught at the School for the Deaf and then began teaching in the SF school system in 1957. Howard began his career teaching Adult evening classes in 1959, becoming supervisor of community education. Howard established the first Adult Literacy Basic Education Program in South Dakota in 1964 and went on to establish the Hovland Learning Center, which is part of Southeast Technical Institute in Sioux Falls. In 1985, Howard made a personal financial contribution to the Missouri Valley Adult Education Association (MVAEA) to establish annual awards in 7 mid-western states. He and Eunice established several scholarship programs to vocational schools, colleges, and Lutheran seminaries. Howard's legacy greatly influenced the lives of many adult students through his leadership, service, and devotion to the growth of continuing education.
Howard retired from his official roles at age 55 so he and Eunice could care for Eunice's brother Allen, after their parents were tragically killed in car accident. Allen brought great joy to Howard and Eunice's life. From 1979-1989 Howard was self-employed in land development and home construction.
Howard was inducted in the International Hall of Fame for Adult and Continuing Education in Boston, MA in 2006, as well as the SD Hall of Fame in 2007. He and Eunice created the Hovland Center for Liturgical Art at Augustana College, where Howard occasionally assisted Eunice's uncle, Professor Palmer Eide. Howard became successful in wood sculpting himself. Howard loved hunting, fishing and other outdoor activities. He and Eunice loved traveling in the US and Europe—visiting relatives in Norway many times. He greatly appreciated music and art. He had a passion for writing and documenting his family's heritage and other memoirs.
In 2014, Howard and Eunice were instrumental in launching Harmony South Dakota, a free after-school music program run by great niece, Heidi Goeller and her husband Dan that offers life-changing opportunities to children in the Sioux Falls community.
Howard is preceded in death by his parents, wife Eunice, and brothers-in-law, Allen Eide, Milton Eide, brothers Telford (Esther) Hovland, Benjamin (Lois) Hovland, Laurence (Esther) Hovland; twin brother Harold (Lucile) Hovland, sisters Agnes (Dale) Hansberger and Doris (Dr. Henry) Blohm, niece Julie Hansberger Robertson, and nephews Gunars Hovland and Eric Eide. He is survived by 36 nieces and nephews, two brothers-in-law, Earl (Marge) Eide, Joel (Diane) Eide, and sister-in-law, Maureen Eide.
The family would like to thank great niece Heidi Goeller for her faithful assistance to Howard and Eunice in the last few years.