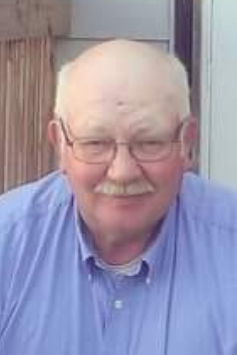 69
Trent, SD
May 15, 2023
Harlyn R. Bokker, 69, of Trent, passed away on Monday, May 15, 2023 at Riverview Healthcare Center in Flandreau. His funeral service will begin at 10:00 a.m. on Saturday, May 20, 2023 in the Lutheran Church of Dell Rapids. Interment will be in the Riverview Cemetery, rural Trent. Visitation with the family present will be from 5:00 – 7:00 p.m. on Friday, May 19, 2023 at Kahler-Brende Funeral Home.
Harlyn R. Bokker was born on August 18, 1953, at Dell Rapids, SD, to Marvin and Berniece (Halvorson) Bokker. He grew up on the family farm outside of Dell Rapids. Harlyn attended school at Dell Rapids and graduated from DRHS in 1971. After high school he attended Vo-tech school in Chicago, IL. He then enlisted in the US Army in March of 1974, he then transitioned to the US Army Reserves where he served in Operation Desert Storm with the 323rdChemical Company out of Sioux Falls.
Harlyn was married to Theresa Culp on May 24, 1980. The couple made their home in Trent, and eventually moved to the family farm outside of Trent. He worked as a diesel mechanic for Tri-State Implement for over 30 years and retired from the Army Reserves in 1994. He farmed with his father until his father's death and then continued farming until he sold the land in 2020.
Harlyn had a great sense of humor and loved telling jokes. He loved farming and gardening, going to auctions and flea markets, and collecting things that interested him. This usually meant something historical, or a toy tractor. It also meant he never left an auction or flea market empty-handed. He had a creative mind and could channel that into new creations or interesting fixes.
Harlyn was a soft-spoken man who had a heart of gold. He would always take time to catch up with anyone who had a few minutes to spare (or hours). He loved visiting with friends and family, and especially enjoyed it when his grandchildren came to the farm. He could bring a smile to anyone's face and kept his sense of humor even through his Parkinson's diagnosis.
Harlyn became a resident of Riverview Healthcare in October of 2022 where he continued to reside until his death.
He was a member of the Lutheran Church of Dell Rapids, Past Trent Legion Commander, Past Moody County Legion Commander, a lifetime member of the Trent Legion, the VFW and a member of the Trent Fire Department.
He was preceded in death by his parents.
Harlyn is survived by his wife, Theresa of Trent; his daughter, Kassandra Bokker of Trent; his son, Rylan (Melissa) Bokker of Flandreau; four grandchildren, Aston, Arianna, Ella and Edison; his brother, Myron (Betty) Bokker of Trent; and other relatives, extended family and many friends.
Memorials may be directed to the Moody County Historical Society.
Funeral arrangements were provided by Kahler-Brende Funeral Home.