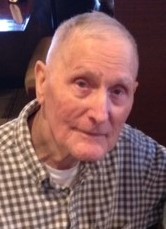 99
Dearborn, MI (formerly of Colton, SD)
December 10, 2022
Gerald Norman Lee, age 99, a longtime resident of Dearborn, Michigan passed away on December 10, 2022 at Angela Hospice Center in Livonia. A memorial service with military honors will be held at 1:00 PM Tuesday, May 23, 2023, at the Minnehaha Lutheran Cemetery, 249th St & 465th Ave, rural Colton, SD, with a reception to follow at The Shipwreck Bar and Grill, 23925 464th Ave, Chester, SD.
He was born on February 14, 1923, in Colton, South Dakota, the son of Tomena (Thompson) and Otto Lee. He grew up in the Colton area where received is education graduating from Colton High School in 1940 and Confirmation from First Lutheran Church June 26, 1938.
Gerald married Olivette M Perry on February 28, 1942, in Detroit, Michigan. In 1949 they moved to Dearborn, Michigan where they lived their entire married lives. Olivette passed in 2004.
He was a veteran of the United States Navy, serving in WW-II from which he was Honorably Discharged January 15, 1946. Immediately following his discharge, Gerald was employed at Werth & Martell Auto Service 1946-1967; then 1967 until his retirement in 1989 with Ford Motor Company in their Dearborn Service Research Center as their Service Manager. He was a member of St Paul Lutheran Church.
Gerald was a caring person who enjoyed family gatherings, an avid gardener and enjoyed playing pinochle. He was a member of the VFW.
He is survived by his three children, Terry R. (Sherry) Lee, Timothy A. (Patricia), and Suzanne Lee Brindley. Gerald is remembered by his seven grandchildren, and fifteen great grandchildren. He was preceded in death by his parents; his wife, Olivette, four brothers: Russell, Vincent, Lavern and Norbert, and three sisters: Bernice, Genevieve and Arleen.
If desired memorials may be made to the St Paul Lutheran, 21915 Beech St., Dearborn, Michigan 48124. Online condolences may be made to St Paul Lutheran Church at www.stpaul-dearborn.org
Funeral arrangements provided by Minnehaha Funeral Home.