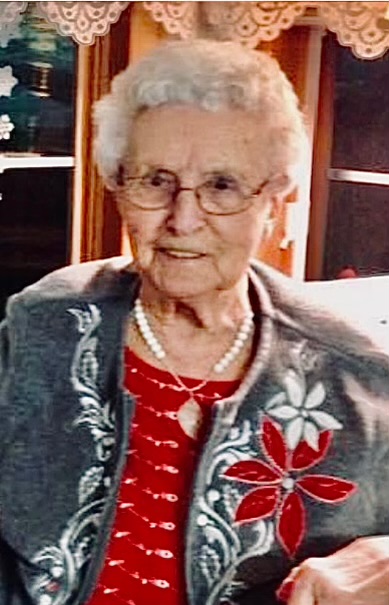 101
Dell Rapids, SD
April 17, 2022
Ella Ida (Papendick) Koepp died peacefully April 17th, 2022, at the Dells Nursing and Rehab Center in Dell Rapids, South Dakota. Funeral services were held on Saturday, April 23, 2022, at Zion Lutheran Church in Garretson. Interment was in the church cemetery. Memorials may be directed to Zion Lutheran Church.
Ella was born in rural Freeman, South Dakota on March 1, 1921, to Rudolph and Mary Papendick. She attended Lutheran Prochail School in Freeman and at age 8 moved with her parents to Bridgewater, South Dakota. While in Bridgewater, she attended school and worked at the Canistota Bakery and also as a waitress at the Ortman Hotel and Restaurant. Ella met her husband, Lawrence Koepp, while he was in the service through a writing program to enlisted soldiers. He was overseas and Ella befriended him quickly. They were married on October 9, 1945, in Canistota. Lawrence and Ella then bought a farm one mile West of Garretson, South Dakota; where they lived for most of their time together.
While Lawrence and Ella lived on their farm, Ella was active in the local Neighbor's Extension Club and a member of the church circle at Zion Lutheran Church in Garretson. Ella was also a 4-H Club leader in Garretson, engaging youth, along with her three children, with agricultural awareness. Weekends were often spent with family and friends playing Pinochle. Ella also enjoyed swinging underneath the old cottonwood tree on their property with her grandchildren. In her spare time Ella crocheted afghans for her children, grandchildren and great-grandchildren. In her later years, Ella became an avid Minnesota Twins fan and would rarely miss a game.
Ella is survived by three children: Vince Koepp of Columbia, IL; Ruby (Steve) Niklason of Bryant, SD; and JoAnn (Alan) Engelbrecht of Brandon, SD. She is also survived by five grandchildren: Trappor (Emilee) Masson; Amanda (Michael) Piesche; Haley Koepp; Jason (Whitnea) Engelbrecht; and Maggi Engelbrecht; and her brothers, Robert Papendick, Norm Papendick, and Arnold Papendick. She is also adored by her four great-grandchildren: Rosalee Masson; Anna and Kayla Engelbrecht; and Dakota Piesche.
She was preceded in death by her husband, Lawrence, brothers, Mike, Helm, and Herb, her sister Lena. She also was preceded in death by several nieces and nephews.
Minnehaha Funeral Home, Garretson, handled the arrangements.