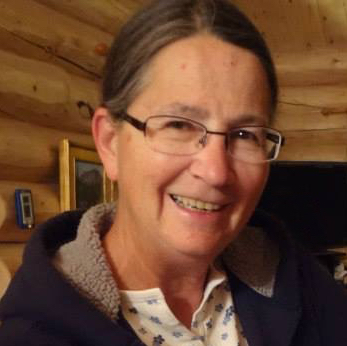 71
Niobrara, Neb.
Saturday, Feb. 22
Funeral services for Elizabeth Krupicka, age 71, of Niobrara, Nebraska will be 10:00 a.m. Wednesday, March 25, 2020, at the ZCBJ Hall in Verdigre, Nebraska. Melinda Bobo will officiate, with burial in L'Eau Qui Court Cemetery in Niobrara.
Visitation will be Tuesday, March 24, 2020, from 4:00 to 7:00 p.m. at Brockhaus Funeral Home in Verdigre.
Elizabeth Anne Krupicka completed her hero's journey at the age of 71 on February 22, 2020. Born May 23, 1948 in Luverne, MN to Herman and Marion (Aumer) Redder, she was the oldest of twelve children, 7 boys and 5 girls. At the time of her passing, home for Elizabeth (Liz) and her husband of 48 years, Ronald J. Krupicka, was the small farm that afforded them sanctuary in the hills outside Niobrara, NE.
Liz began her hero's journey on a small dairy farm outside Beaver Creek, MN. She remembered her childhood there fondly. In February 1962, the family moved to a small farm outside Dell Rapids, SD. She graduated from Saint Mary's Catholic School (1966) as class valedictorian. Her continued education at Mount Marty College resulted in a teaching degree (1970) in piano and choral music education.
Her journey entered a new chapter when her long-distance courtship resulted in marriage to Ron on September 18, 1971. Following Ron's discharge from the Army, they embarked upon backpacking adventures through Europe (1972) and South America (1975), bonding them together and serving to crystalize a shared set of values that would direct their life together.
Liz's life's work was that of an educator. While a secretary at Cedar Catholic High School in Hartington, NE, she attended Wayne State College to obtain teaching endorsements in English, Spanish, and instrumental music. In Hartington, Liz also gave birth to her three children: Katrina, Anton, and Antonia. After moving to their farm (1988), Liz started a 24-year teaching (English and Spanish) and coaching (Speech and Drama) career at Niobrara Public School. Along with treating each student with dignity and respect, she led by example, acquiring a Masters in Curriculum Development from Doane College (1996).
Liz eagerly anticipated the new chapter of her journey after her retirement from education (2013). She welcomed two grandsons (2013), Breccan and Emil. Two years later she celebrated the births of grandchildren Zada Vey (2015), and Miles (2016). Despite a cancer diagnosis (August 2016), she never became bitter, mean-spirited, or angry. Rather, she became more loving, caring, reflective, and compassionate. Liz remained true to herself and her family, which is why she emerged a hero on the other side.
She is preceded in death by her parents; her brother, John Redder; and nephew, Robert Redder. She is survived by her husband, Ron; her children Katrina (Chris) Dingman of Dubois, WY; Anton (Hailey Moore) Krupicka of Boulder, CO; and Antonia (Andrew) Krupicka-Smith of Colorado Springs; her grandchildren Emil and Miles Dingman and Breccan and Zada Vey Smith. She is also survived by siblings Joseph Redder; Stephen (Patti) Redder; Jeffrey (Teresa) Redder; James (Deb) Redder; Rosemary (Tom) Gangel; Joan (Jim) Lacey; Maria (Mike) Nichols; Thomas (Joanne) Redder; David (Loretta) Redder; Christina (Joe) Wilke, and numerous nieces and nephews.