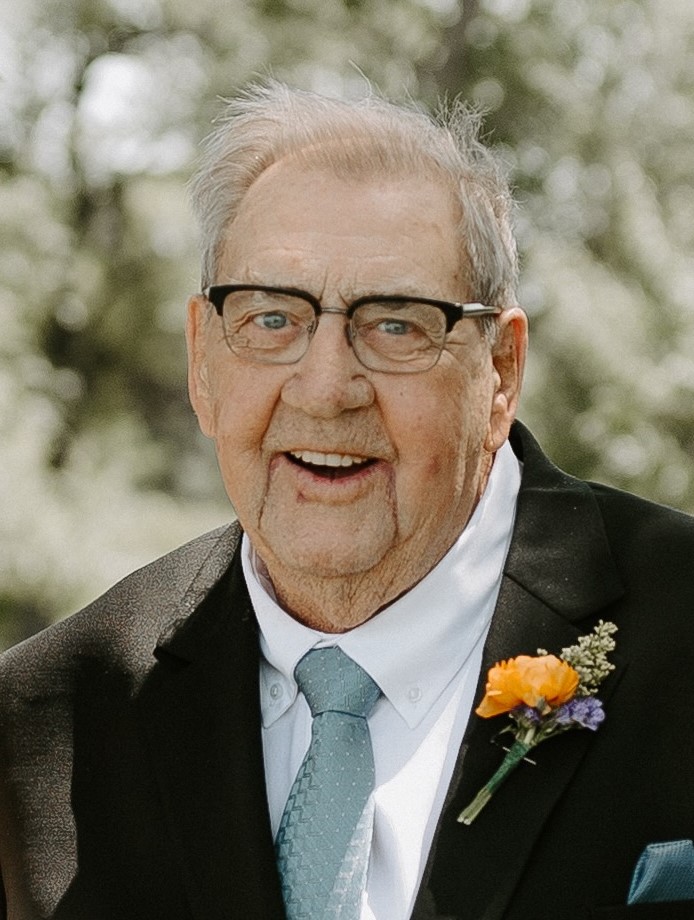 88
Colton, SD
January 16, 2023
Donald James Koopman, age 88, of Colton, passed away on Monday, January 16, 2023, at the Sanford USD Medical Center in Sioux Falls. Funeral services were held 10:30 am, Saturday, January 21, 2023 at West Nidaros Lutheran Church, rural Crooks. Interment was at the church cemetery. Visitation was held from 5 to 7 pm, Friday January 20, 2023 at the Minnehaha Funeral Chapel, Colton, with a Prayer Service that began at 7 pm. Funeral was live-streamed on the West Nidaros Facebook Page. In lieu of flowers, memorials may be directed to the Orchard Hills golf cart and activity fund or Willow Creek Church.
Don was born on September 21, 1934, to Gerrit and Helen Anna (Persing) Koopman. He grew up in Colton and graduated from Colton High School. After graduating, he helped local farmers until enlisting in the United State Navy. Following his honorable discharge from the Navy, Don returned to Colton to help his dad at Koopman Hardware & Propane, which became a lifelong career with Koopman Gas.
On August 14, 1959, Don married Donna Lee Langloss at West Nidaros Lutheran Church. They lived for a short time in Sioux Falls until moving to Colton in 1960. Soon after that, in 1967 Don and Donna moved to the farm where they raised their family. After moving to farm, Don continued to work Koopman Gas and custom spraying, whitewashed dairy barns and farmed on his own.
Don enjoyed bowling and would rarely miss playing Bingo at the Dell Rapids American Legion on Thursday nights. His favorite past time was spending time with family and friends and attending his grandchildren's many church and school activities at Tri-Valley and Sioux Valley Schools. In 2012, Don and Donna were selected to receive the Tri-Valley Butch Bachman "Fan of the Year" award. Don was a past member of the Dell Rapids American Legion and the Elks. He was also a member of Willow Creek Lutheran Church, a past member of First Lutheran Church, Colton and was active on the Taopi Township Board for many years.
Survivors include his children: Kim (Randall) Questad, Baltic, Kari (Kevin) VanderWal, Volga and Dan (Stacey), Hartford. He was blessed with nine grandchildren: Katie (Kevin) Hoekman, Sarah (Justin) Jenness, Jared (Nicole) Questad, Dallis (Amanda) VanderWal, Collin VanderWal, Lane VanderWal, Ashlyn (Don) Richards, Logan (fiancé Jaiden Baumgartner) Koopman and Brayden (Katie Balay) Koopman; great grandchildren: Anna, Peter, Esther and Elijah Hoekman, Simon, Siri and Judah Jenness, Haislee, Wrenlee and Laynee Questad and Emma, Riker and Benjamin Richards; siblings: Doris Schildhauer, Colton, Lloyd (Carolyn), Smithville TX and LeRoy (Marie), Colton; brother and sister in law: Kathy Koopman, Coppell, TX and Rick English, Scotland; Donna's siblings: James (Lila) Langloss, Sioux Falls, and Marv Wieman, Crooks; special family friends, Deb Swier McCain; many other nieces, nephews, family and friends.
Don was preceded in death by his parents; wife, Donna on October 25, 2013; brothers John (Barb) and Bill; sister, Evelyn English and sister in law, Elaine Wieman.
Don's family would like to give a special then you to his second family, the staff at Orchard Hills, for loving care and friendship they gave Don.
Funeral Services were provided by Minnehaha Funeral Home & Cremation Services.