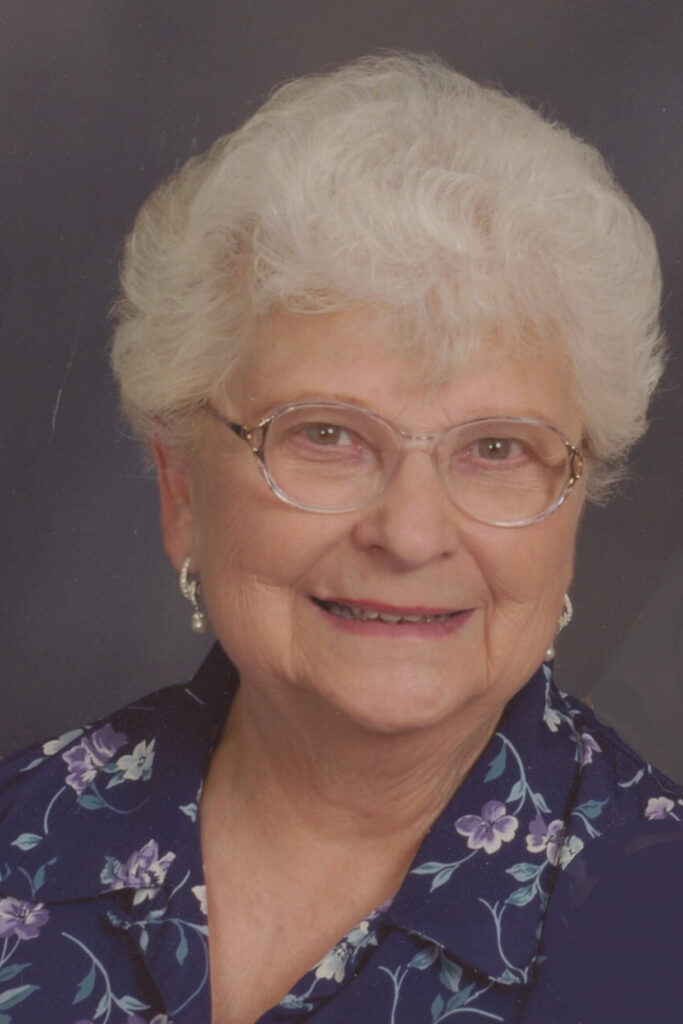 96
Dell Rapids, SD
March 25, 2023
Dolores (De) Salviola, 96, of Dell Rapids passed away Saturday, March 25, 2023, at Dells Nursing and Rehab Center. Her Mass of Christian Burial was held at 10:30 a.m. on Friday, March 31, at St. Mary's Catholic Church, Dell Rapids. Visitation with family present was 5 to 7 p.m. on Thursday, March 20, at Kahler-Brende Funeral Home. The Christian Wake Service began at 7 p.m. followed by the rosary.
Dolores Geraets was born September 28, 1926 on a farm outside of Dell Rapids. She was the youngest of 15 children born to Henry and Mary (Rickerl) Geraets. She was the last reaining sibling. She grew up on the farm and attended St. Mary's School in Dell Rapids.
De married Darrell Kroger on January 17, 1945 in Dell Rapids. He preceded her in death February 5, 1972. They owned restaurants in Colman and Dell Rapids for many years as well as a truck stop outside Dells Rapids. They raised their five children in Dell Rapids.
She married Dominic (Nick) Salviola June 7, 1974 in Dell Rapids. He preceded her in death June 27, 2012. De and Nick enjoyed traveling and had visited 48 of the 50 states as well as taking several cruises. They were well known for their work with the Tree Board and for inviting and cooking spaghetti for hundreds of friends and family over the years.
De was an excellent cook and especially known for her homemade pies. She loved her flower garden and worked in it daily until she was in her 90's. Every morning she read the paper, did her crossword puzzle and her bible reading. She cross-stitched literally hundreds of dish towel sets and pillow cases for family and friends. She enjoyed going to social events with friends and spending time with her family. She told everyone she was going to stay fat and sassy to the end…and she did. Her adventurous spirit and infectious laughter will be missed by all who knew her. She had a beautiful smile and never seemed to age.
She was a member of St. Mary's Catholic Church in Dell Rapids and Altar Society. She was also a member and past president of the Dell Rapids Garden Club and Dell Rapids Senior Center as well as a member of the American Legion Auxiliary and a weekly patron of the Dells Library.
Left to cherish her memory are her four daughters, Sandy (Dean) Helton, Polo, IL, Linda (Glenn) Bryson, Kirbyville, MO, Dianne (Ross Goetz) Kroger, Dell Rapids and Deb Duby, Glendale, AZ; five grandchildren, Laurie (Jeff) Burke, Michael Ludewig, Melissa (Matt) Lance, Nicole Duby and Stephen Goetz; three great-grandchildren, Travis (Jozi) Burke, Tyler (Abby) Burke and Kortney Graham; two great-great- grandchildren, David and Hayden; and numerous nieces, nephews, cousins and friends.
She was preceded in death by her husbands Darrell and Nick; a son, Dale Kroger; her parents; eight brother, Henry, Bernard (Brother Florian), William, John, Theodore, Frank, Lawrence and Raymond Geraets; six sisters, Johanna Lamberty, Regina Harrris, Rose Geraets, Marie (Sister Therista), Helen Heinemann and Margaret Mairose.
Memorials may be directed to St. Mary's Church, Dell Rapids Library or Dell Rapids Garden Club.
Services were provided by Kahler-Brende Funeral Home.