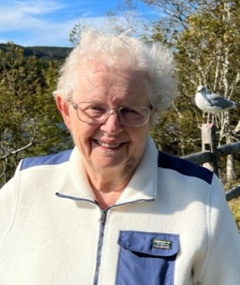 81
Sioux Falls, SD
October 19, 2023
Diane Louise (Nelson) Osterhout, 81, joined the love of her life in heaven on October 19, 2023, at her home in Sioux Falls.
Diane was born on April 10, 1942 to Evelyn (Morin) Nelson and Herbert Nelson in Minneapolis, MN. Diane spent her childhood in South Minneapolis a stone throw away from Lake Harriet. In 1958, Diane would meet a handsome young sailor named David Osterhout on a train during a high school class trip. For the next year, they corresponded via letters which turned into love letters, keeping those letters all of these years. On July 16, 1960, Diane married David and this year had celebrated 63 years together. In the early years of their marriage, Diane worked in a restaurant and a country club as a server to help provide for their growing family. Most of her career and passion was as an LPN caring for the elderly in various nursing homes, first in Minnesota and then in 1984 with a move to Arizona until she retired. Diane loved all things family and cherished every moment she could spend with them. Diane could always be found right along David's side in the kitchen, where they made meals together and during the holiday season when the baking would begin and seemingly would never end.
Diane is preceded in the death by her husband, David, just 7 weeks ago; parents; brother, David Nelson; brothers-in-law George, Jeff and John Osterhout, David Lorbecki; one grandchild and one great-grandchild.
Diane is survived by her sister-in-law, Nancy Lorbecki, Elkhart Lake, WI; daughter Deb (Jan) Gross, Dell Rapids; sons, Darren Osterhout (Ann), Sasebo, Japan, Dwaye Osterhout (Ngoc), Navarre, FL and Doug Osterhout (Jennifer), Bath, ME; 11 grandchildren; 10 great-grandchildren; one great-great-grandson; many nieces, nephews, cousins and life long friends.
A dual service will be held for Daine and David on April 25, 2024. Time and location in Minneapolis, MN TBD. Interment will be at Fort Snelling National Cemetery April 26, 2024, 10 a.m. with full military honors for David.
Services provided by Kahler-Brende Funeral Home.