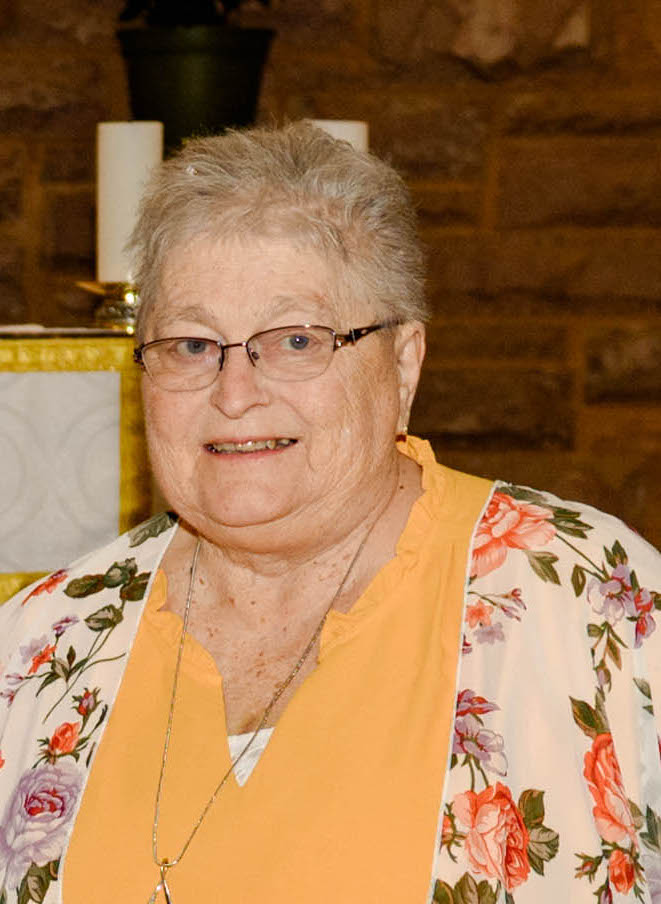 80
Dell Rapids, SD
March 21, 2023
Delores Klein, 80, of Dell Rapids, passed away on Tuesday, March 21, 2023, at Avera McKennan Hospital in Sioux Falls. Mass of Christian Burial was held on Tuesday, March 28, 2023, at St. Mary Catholic Church in Dell Rapids. The family requests donations be directed to the St. Mary School Chapel Fund.
Delores Eileen Ginsbach was born on January 27, 1943, to Laurence and Agnes Ginsbach in Dell Rapids. She grew up with her four siblings on the farm. After milking cows, she would walk across the road to country school at Gale Ridge. She graduated from St. Mary School in 1961. Delores became an RN through Sacred Heart School of Nursing in Yankton in 1964.
On November 1, 1964, Delores was united in marriage to the love of her life, Richard Klein. They made their home in Dell Rapids until 1968, then spent 6 years in Colorado before returning to Dell Rapids where they raised their five children. In that, they owned Klein Construction, she shifted from nursing to bookkeeping and woodworking in the stain shop. Her free time was spent fishing, taking road trips, reading, bird watching, playing cards and dominoes. Near retirement, they purchased a cabin at Lake Madison where countless memories have been made ever since.
Grandma Dee was proud of and loved spending time with her 15 grandchildren and enjoyed attending their various activities near and far. Some of her treasured moments with them included Grandma-Care Monday and teaching them to serve other through the Angel Tree. for the Fontanini set for the past 24 years.
Throughout her adult life, Delores was active in various organizations including the St. Mary Altar Society, LifeScape Services and Trent River Camp. She was a very active member of the Catholic Order of Foresters and served as a High Court Trustee for over 20 years. Delores loved having a home full of family and friends enjoying themselves. Aside from large family gatherings, she enjoyed hosting Card Club and Thursday Coffee. She also looked forward to time spend with Birthday Club, monthly sibling call and cousin luncheons.
Survivors include her husband, Dick Klein; children, grandchildren, great-grandchildren; Deb (Dave) Wolles and their children, Jessica, Kiley (Dylan) Peters and Lindsay; Dan (Shelli) Klein and their children, Rochelle (Nick) Hoffman, Kathryn, Maggie and Madelyn; Dennis (Lori) Klein and their children, Nathan (Jen), Eric and Brooke; Darian (Stacey) Klein and their children, Jenna, Max and Austin (Norine) Leimbach and their children Grace and Bodhi; Dustin Klein and his children, Elise and Jase; siblings; Jayne (Luis) Berrios, Joan (Art) Klein, Ethel Geraets and Steve (Diane) Ginsbach; many nieces and nephews, extended family, friends and neighbors. She was preceded in death by her parents, Laurence and Agnes (Welbig) Ginsbach and an infant sister.
Funeral services provided by Minnehaha Funeral Home & Cremation Service.