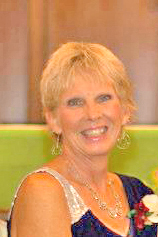 63
Baltic, SD
March 24, 2022
Dawn Marie Burns, 63, of Baltic, passed away on Thursday, March 24, 2022. A Memorial Visitation with family present will be from 1:00 p.m. – 3:30p.m. on Saturday, April 2, 2022 at Kahler-Brende Funeral Home. The family request that you dress casual. www.kahlerfh.com
Dawn was born on March 30, 1958 in Sioux Falls, SD. She grew up in Watertown and graduated from Watertown High School in 1976. She attended USD and then moved back to Watertown where she met Doug Burns. The couple married on March 7, 1981 and made their home in Watertown until moving to Pierre for three years. In June of 1987, the family moved to Baltic where she remained until the time of her death. Dawn worked for Sioux Vocational Services, now known as Lifescapes for 32 years before retiring in February of 2019. 
Dawn or "Grandma New" was known for her passion and love of many things, including family, friends, gardening, decorating the porch and house for the holidays, watching Judge Judy, murder mysteries, collecting Native American art, shopping for the best bargains, and sitting in her hot tub. Dawn loved to travel especially to New Orleans, Gulf Breeze FL, Mexico, Jamaica and any place that was new and exciting. She enjoyed listening to music, attending Saturday in the Park and Jazzfest where she would bring her Parrot on a stick "Fernado" so everyone knew where to meet. She never passed up an opportunity to have a good time. She enjoyed crewing along with her daughter for the Hot Air Balloon Association. Dawn always had a heating blanket on and a Diet Mt Dew and a dessert close by. She loved all animals especially horses and cats, press on nails, Mardi Gras masks, jewelry, having backyard fires. Dawn loved her granddaughters with all her heart and enjoyed rolling down the hill, spending time and teaching them new things. 
She is preceded in death by her sister, Darla, brothers, Donnie and Daniel; her in-laws, Harold and Grace Burns, her sister-in-law, Barb Weller; nephew, Joseph Hagele; brother-in-law, John Matthews and her best friend, Gigi Naggatz.
She is survived by her husband of 41 years, Doug Burns of Baltic; her son, Jason Burns of Crooks; her daughter, Jenni (Ryan) Nuttall of Watertown; her granddaughters, Lydia and Lainey Nuttall; her mother, Donna Anderson of Dell Rapids; her sister, Denise Matthews of Ward, CO; her sister-in-law, Carol (Larry) Hagele of Aurora, CO; her nephews, Joe and Luke Matthews and her nieces, Jessica Mobeck and Rosalee Hagele.