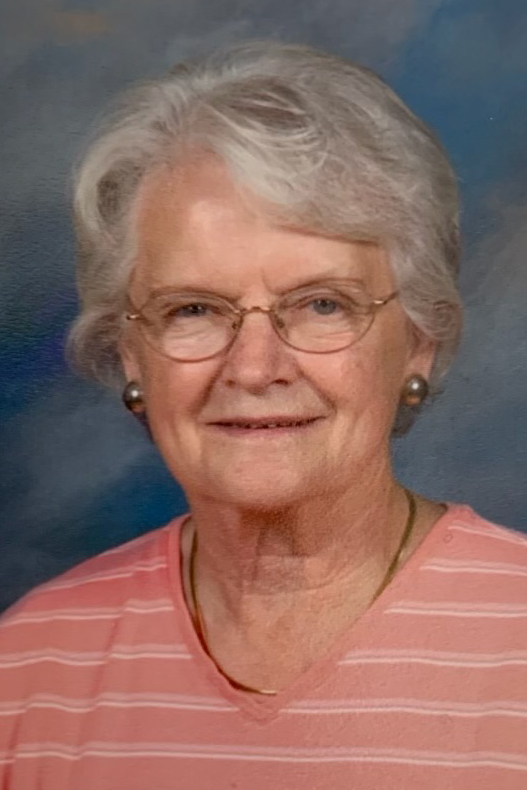 92
Dell Rapids, SD
December 25, 2022
Darlene C. Nelson, 92, of Dell Rapids, passed away on Sunday, December 25, 2022 at Good Samaritan Society – Prairie Creek in Sioux Falls. Her Mass of Christian Burial began at 10:30am on Thursday, December 29, at St. Mary Catholic Church, with her grandson, Fr. Danny Gustafson SJ, presiding. Visitation with the family present was on Wednesday, December 28, from 5-7pm at Kahler-Brende Funeral Home. The Christian Wake Service began at 7pm with a Catholic Daughters Rosary to follow.
Darlene was born on the Hansen family farm near Dell Rapids on December 6, 1930. The 9th of 16 children born to Leo and Ida (Bricher) Hansen, her middle name was taken from the name of the aunt who helped deliver her, and insisted that she be baptized that very day, prompting a trip into the country by the parish priest. She attended St Mary Schools and graduated in 1948, valedictorian of her class. She then worked for the Dell Rapids Creamery and Faris Jewelry. She married Roger Nelson on June 16, 1955 and they farmed northeast of Dell Rapids, raising eight children. She worked at St. Mary Grade School as a secretary from 1976-2006. She and Roger moved in to town in 2013, but her life of service continued, as she cared for Roger until he passed away in 2019.
Darlene never put herself in front of God or her family. She was an exemplary mother, grandmother, manager, worker, planner, cook, gardener. Her first love was her family, the second her faith. She was also an exemplary believer who lived her Catholic faith and she was an amazing human being. She made sure everyone was cared for, providing support, guidance or a tender touch.
She was the calm in many storms, with never-wavering support of her children, encouraging them to read and go to school. She was the glue of the family, keeping many things pieced together, sometimes miraculously. She spent most of her life serving people in one way, shape or form, taking care of a farm family, or her church family, or even non-family.
She was the master of many jobs at one time, from cleaning hundreds of chickens to picking hundreds of eggs or thousands of cucumbers. There were thousands of meals prepared and maybe that many loads of laundry down in the dungeon of the farm house basement, followed by hauling all that laundry outside to hang dry.
There was homework to check up on for eight, plus getting six boys up for chores, church or other projects, while making sure the two girls got their share of work and attention. And always, there was another load of clothes to wash.
There was never a complaint, even when pet cats were brought in the house and maybe set free for a minute. There was even that one mother cat that Darlene kind of liked, and let stay in the house for a while.
There was so much canning of garden goods, only done after a spring and summer of working in that garden. If it wasn't the garden, or the laundry, there was a small mountain of mending – eight kids on a farm is tough on clothes. If she wasn't fixing a tear or patching a hole, she was making something for someone to wear.
She was a 24-hour nurse, treating eight cases of measles, chicken pox, mumps or just the common cold – at a time. There was zero time for her to get sick. Holidays were never days off because even more family arrived, which meant bigger meals and stretching out already long tables, fixing even more pies or potatoes.
She loved her big family, and the big family that she came from. Serving was always done patiently, or with a smile, and everyone got served. She made cinnamon rolls nearly every Saturday on the farm, and there was a traffic jam in the yard because all the neighbors and the salesmen and sometimes complete strangers, just needed to stop by for something, that usually ended up being a roll.
When her kids started going to college, she went back to school, working at St. Mary, mostly in the grade school, because she loved little kids. She went on field trips, or punched hot lunch tickets, or helped bake the bread if needed, because when something needed to be done, she was the first to go do it.
As she got older, she went to visit friends and family in the hospital or nursing homes. She grew as many flowers as would fit in her small flower beds in town, pared way down from what she grew on the farm. She cared for Roger until he passed away.
She passed away on Christmas Day, 2022. She is preceded in death by her husband Roger, five brothers, five sisters and one grandchild (Will Nelson).
Darlene is survived by her children: Jeff, Crawfordsville, IN, Dean (Mary), Apple Valley, MN, Scott (Wendy), Dell Rapids, Brad (Jonie), Omaha, NE, Bette (Marc Paulsen), Georgetown, TX, John (Annette), Littleton, CO, Phyllis (Carl Jackson), Valparaiso, IN, and Matt (Kim Johnson), Crooks; Grandchildren: David (Kayla) Nelson, Fr. Danny Gustafson SJ, Chris Nelson, Colin Nelson, Ashleigh Nelson, Chelsea (Matt) Sorensen, Christian (Kaylene) Nelson, Zach Nelson, Mikayla (Joe) Wolles, Katelyn Nelson, Meghan Nelson, Emma Nelson, Dylan Nelson, Gabe Nelson. Great-grandchildren: Melanie and Hayden Shellum and Evelyn Wolles, Siblings: Erm Berg, Tom, Terry and David Hansen, Karli Boelter, and many nieces and nephews.