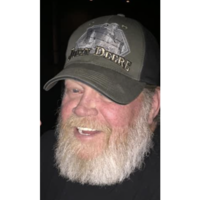 66
Trent, SD
February 4, 2022
Curtis Wayne Scadden was born October 1, 1955, in Valley Springs, SD to Neal and Sandra (Den Herder) Scadden.  Curt made lifelong friends in Valley, spent his time doing all the things Valley kids do – swimming in the creek, partying, kissing girls, and raising hell through the streets. He graduated from Brandon High School in 1974.
Curt married Theresa Swenson (Otten) in 1975. They had three children that he treasured – Jeremy (Candy), Nicole, and Shane (Rachel) all of Valley Springs, SD.  With his marriage to Theresa, Curt gained a second family with the Zane Swenson crew.  He adored those people and they, in turn, loved him so.  Curt worked a variety of jobs including working with his dad.  Curt moved to the Phoenix, AZ area in 1990.  He then met Paula Joe Enright, in 1991 – and shall we say, his life was never the same!  With Paula, came a second family with daughters Deidra and Lyndsay (Boomer). Many, many dear friends and stories accumulated over those years.  Moving back to SD made him happy living close to his children, and working for Jeremy. He married the love of his life, Paula in 2014. In the later years, Curt loved to drive truck for Wendell and Ellefson Farms where he made so many friends. 
Curt loved riding his motorcycle, racing cars (legal and illegally), fishing and hunting with the boys, EVERYTHING competitive – If there was a way to keep score – he was in!  He was always down for a good game of horseshoes, pool, pitch, cribbage, golf – as long as he had a good partner! Curt and Paula lived an exciting and entertaining life, full of laughter, lots of love, and unprecedented one-liners – even close to the end of his life, Curt was still giving Paula all of her comedic material.
Curt mostly adored the time he was able to be with all of his grandchildren – Shyanne, Chloe, Nealy, Savannah, Abbygail, Koralee, Josh, and Madi. He is now having the best reunion with his parents and family, and the many friends he lost over the years, and especially his girlfriend Trixie.
Curt did everything hard; he worked hard, he lived hard, he laughed hard, he played hard, and most of all he loved hard. How lucky are we to have called him a husband, a father, a brother, a friend. Curt made his way to heaven on February 4, 2022, at only 66 years ~ Truly only the good die young. 
A memorial celebration of life will be held at a later date.