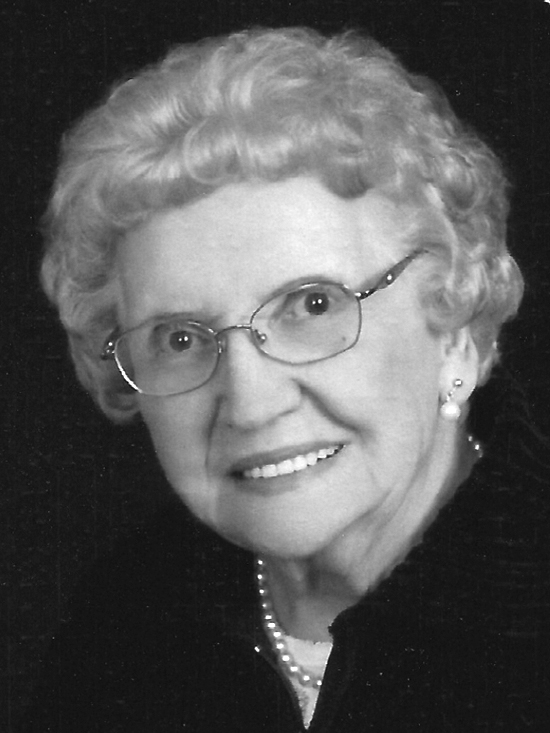 Charlotte M. Hinricher, 92, of Dell Rapids, died of natural causes on Saturday, January 11, 2020 at the United Living Community in Brookings. Her Mass of Christian Burial will begin at 10:30 a.m. on Saturday, January 18, 2020 in St. Mary Catholic Church, Dell Rapids with Fr. John Lantsberger as the celebrant. Casketbearers are Elliot Hinricher, Court Hinricher, Sam Hinricher, Ben Hinricher, Michael Hinricher, Jr., Zachery Hinricher, Joseph Tonneson and Mathew Hinricher. Interment will be in the St. Mary Cemetery. Visitation with the family present will begin at 5:00 p.m. with the Christian Wake Service beginning at 7:00 p.m. on Friday, January 17, 2020 at Kahler-Brende Funeral Home. www.kahlerfh.com
Charlotte was born to Joseph Nicolaus Nemmers and Magdalen (nee) Roeder in Dell Rapids on July 14, 1927. She was the 12th of 13 farm children. She became motherless at age 11 when Magdalen died from tuberculosis. Her maternal aunt, Mary, helped raise and mentor her. She attended St. Mary Catholic Parish schools and graduated in 1945. Soon after, her oldest brother, Roman, paid for train fare to New York City (her first such trip abroad) so that she could stay with his family for an extended stay.
Charlotte met Robert Hinricher at a wedding dance. During this time, she tended for her father Joe's home. Joe insisted that Bob be invited over for Sunday dinners, where they would enjoy one of Charlotte's fresh-baked pies. They married one year later on September 5, 1949 in Dell Rapids. They honeymooned in the Black Hills of South Dakota. Together, they farmed for 11 years in Moody County before moving to Dell Rapids in 1960.
During this time before our current "farm-to-table" movement, she continued to process chickens, lard, and sweetcorn from relatives for the freezer, and canned applesauce, tomatoes, pickles, and jams.
Charlotte worked at Terrace Manor (now Dells Nursing and Rehab Center) from 1973 to 1997, growing in responsibility from a part-time cook, then head cook, to finally a certified dietician. For a decade of seasons, Bob and her helped run the Tonneson Farm pumpkin patch in Glyndon, MN. She also provided childcare for her grandsons Sam and Ben.
A devoted member of St. Mary Catholic Church her whole life, Charlotte was active in the Saint Theresa's Altar Society Group and as a lay minister for Holy Communion. Bob and her typically said the rosary together before bedtime.
She was an avid pinochle player, jigsaw puzzle assembler, and reader of books. She was known for her beautiful penmanship, her many colorful flower beds, her large vegetable garden, her homemade sweet pickles, and especially her fruit pies.
Her love, generosity, cooking skills, and fond memories are survived by her elder brother Quintin Nemmers of Dell Rapids, SD; her daughter Kathy (Lon) Tonneson of Phoenix, AZ; her sons Terry of Newbury Park, CA, Ron of Woonsocket, SD, Earl (Melanie) of Forestburg, SD; Joe (Edie) of Dell Rapids, SD; Mike (Sharon) of Murfreesboro, TN, and Tim (Lisa) of New Prague, MN; her 16 grandchildren; and 6 great-grandchildren.
She was preceded in death by her mother and father; her brothers Urban, Aloysius, Roman, Fr. Leonard, Fr. Charles, Arnold, and John; her sisters Florence, Mary, Sr. Gertrude, and Sr. Helen; and her husband Robert.
Please send all cards and correspondence to the trustee, Earl Hinricher, 40473 221st Street, Forestburg, SD 57314.