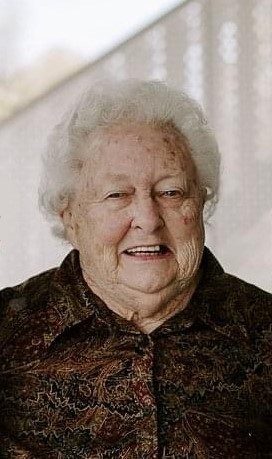 93
Colton, SD
October 29, 2021
Carol J. McMahon, age 93, of rural Colton, SD died Friday, October 29, 2021, at the Dells Nursing and Rehab Center in Dell Rapids, SD.
Mass of Christian Burial will begin at 10:30 AM on Tuesday, November 2, 2021, at St. George Catholic Church in Hartford, SD with Fr. Paul King celebrating. Burial will follow at St. George Catholic Cemetery in Hartford.
Visitation will begin at 5:00 PM on Monday at the church, with a Prayer Service beginning at 7:00 PM.
In lieu of flowers memorials may be directed to St. George Catholic Church Altar Society.
Carol Jean McMahon was born May 15, 1928 to James and Mae (Dickerson) Young. She grew up on the family farm outside Wakonda, SD. She graduated from Wakonda High School and went on to attend Nettleton College. After graduating from Nettleton, she worked as a secretary for John Morrell until she married Robert (Bob) McMahon on October 30, 1951.
She and Bob lived in Rapid City, SD while Bob served in the Air Force, where they had the first of their seven children. They moved to a farm outside Lyons, SD and continued to grow their family there until they moved to the farm outside Colton.
Carol loved being a mom and caring for her family. She most enjoyed gathering around the dinner table with family and friends. When she wasn't caring for her family, Carol liked to read or create needlepoint crafts.
Grateful for having shared her life are her children, Michael (Lois) of Harrisburg, SD, Gregory McMahon of Seattle, WA, Lori (Morris) Wegehaupt of Dimock, SD, Linda McMahon of McCook, NE, Mary Jo McMahon of Sioux Falls, SD, and son-in-law, Lester Mathieu of Baltic, SD; nine grandchildren, Robert McMahon, Angela McMahon and Andrew Meyer, Morgan and Aaron Zieske, Logan Mathieu, Mason Mathieu, Jordan Thornton, Kelsey Thornton and Nathan Johnson, Courtnei and Aubrey Swanson and Kate Murray; great-grandchildren, Blakely Zieske and Willa Mae Fischer; sisters-in-law, Wanda Young, Darlene McMahon and so many nieces and nephews.
She was preceded in death by her parents; her husband Bob McMahon; daughters, Karen Mathieu and Barbara McMahon; sister, Margery (Darrell) Hendry; brothers, Robert, Willard, and Ed Young; in-laws, Patty (Jerry) Healy, Duane McMahon, Francis (Mary) McMahon and George (Sylvia) McMahon.