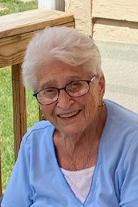 81
Dell Rapids, SD
December 2, 2022
Anna passed away peacefully, surrounded by her children on December 2, 2022, at the Avera Flandreau Hospital. Her Mass of Christian Burial was at 10:30am on Friday, December 9, in St. Mary Catholic Church, Dell Rapids. Visitation with the family present was from 5-7pm on Thursday, December 8, at Kahler-Brende Funeral Home. Interment was in the St. Mary Cemetery, Dell Rapids.
Anne Mae Marie Eulberg "Anna" was born on May 11, 1941 in Flandreau, SD, daughter of Jacob and Marie Kontz. She graduated from Egan High School in 1960. Anna married Don Eulberg on December 29, 1962. They lived on the Eulberg family farm with his brother, Jerome and wife, Luella until 1965. They moved to a farm south of Dell Rapids where they started their family. In 1987 they bought a home in Dell Rapids, where they lived out the rest of their years.
Anna worked at area nursing homes as a CNA until retiring in the early 2000's.
Anna enjoyed having lunch and coffee with the ladies. Family was most important to her. She loved spending time with her grandchildren. Anna treasured her trips to Texas to love on her great-grand babies.
She was preceded in death by her parents, her loving husband, Don and an infant son.
Grateful for having shared her life are three sons, Terry of Dell Rapids, John (Kari) of Howard and Paul of Sioux Falls; her daughter, Sally (Chris) Hovaldt of Larchwood, IA; her five grandchildren, Brandon, Veronica, Jessica, Bridget and Onna; and two great-grand babies, Paisley and Delilah.