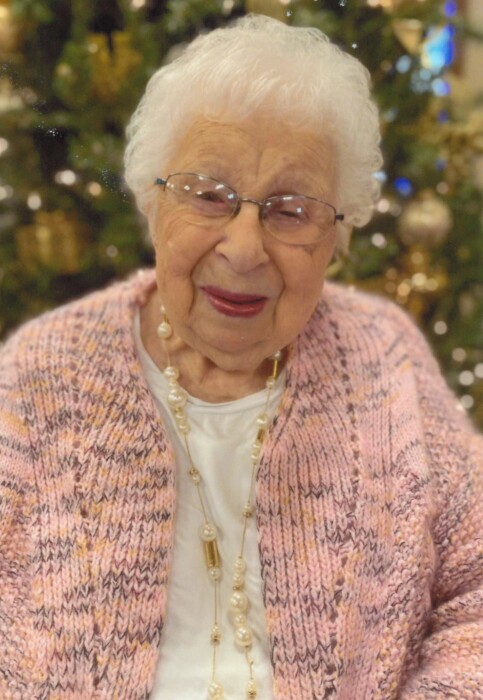 98
Redfield, SD – Formerly of Dell Rapids
February 20, 2023
Alice Marcene (Lee) Dunn, 98 passed away surrounded by family on Monday, February 20, 2023, at the Eastern Star Home in Redfield.
Visitation was held from 2pm to 3pm, on Sunday, February 26 2023, at the Eastern Star Chapel in Redfield. A prayer service and Eastern Star Service began at 3pm. Both services were live streamed on Hyke Funeral Home's website, www.hykefuneralhome.com . Visitors were required to wear a face mask and enter through the front doors under the canopy.
Alice's funeral service was held Tuesday, February 28, 2023 at 1pm at the Lutheran Church of Dell Rapids Chapel in Dell Rapids. There was a visitation at the church one hour prior to the start of her service. Pastor Jeff Sorenson officiated. Following lunch and fellowship at the church, interment was at the Trent Cemetery in Trent. The service was live streamed at www.facebook.com/Kahlerfh.com.
Alice Marcene Lee was born to Albert Ludwig Lee and Milla Louise (Nelson) Lee during the 32 degree below zero morning of December, 28, 1924, in Jasper, MN. Her arrival was a pleasant surprise to her sisters, Judith and Clenora, who were17 and 13 at the time. As a toddler, Alice's family moved to nearby Dell Rapids, where her father worked at the local quarry. She attended Dell Rapids Public School and graduated in 1944.
At a young age, Alice developed a love for music. She was a talented vocalist and trumpet player in the DRHS band, Alice sat next to classmate Dale Rodney Dunn, who eventually became her husband and the love of her life.
Alice and Dale were united in marriage on June 27, 1948, at the Lutheran Church of Dell Rapids, following his service in the Navy during World War II. Five children were born to this union: Mark (1949), Mary (1951), Rodney (1954), Raymond (1958) and Karen (1960). The family was blessed to have Alice as a stay at home Mom until her children were raised. She managed the household, followed the activities of her children and always welcomed their friends and neighborhood children into their home.
Alice was actively involved in the Dell Rapids community as a Sunday School teacher, Cub Scout leader, a member of the Church Choir, Ladies Aide, Church Circle, Women's Club, Mother's Club, American Legion Auxiliary, DRHS Band Parents, Dell Rapids Historical Society, Hospital Auxiliary and the SD Post Master's Auxiliary. Alice was a 74 year member of the Order of the Eastern Star, serving in various offices in her local chapter and SD Grand Chapter. It was a quite normal to find her serving leadership roles in her organizations. Alice was a professional funeral singer and often played the trumpet at military funerals.
Prior to her marriage, Alice worked at the Frist National Bank, Dell Rapids and studied music at Augustana College, Sioux Falls. When her children were grown, she was employed in the dietary department at the Dell Rapids Community Hospital and also worked at the Renberg Elementary School as a Gillingham Tutor and School Librarian.
During the 1980's and 90's, Dale and Alice enjoyed wintering in Mesa, AZ, during February and March, attending spring practice games of the Chicago Cubs. In her retirement, Alice took senior citizen computer classes where she learned the basics and enjoyed e-mailing, playing computer games and designing birthday and all occasion cards. Her grandchildren introduced her to Facebook and she loved being "connected" with family and friends all over the country, enjoying and following special events.
After a lifetime of living and loving the Dell Rapids community, Alice and Dale moved to the Eastern Star Home in Redfield in 2011. They loved their new home and social life as they were able to transition from independent living to assisted living and finally nursing home care. After 68 years of marriage, Dale passed away in 2016. Alice continued to age with dignity and enjoyed life to the fullest even after her sight and hearing declined. She enjoyed listening to talking books and attended most activities at the Home. She was known as the Spelling Bee Champion for several years. She looked forward to Friday afternoon Happy Hour gatherings with her children and grandchildren.
Alice is survived by sons: Mark (Darlene) and Rodney Sioux Falls, Raymond, Redfield; daughters Mary (Gail) O'Donnell, Tulare, and Karen (Jon) Jacobs, Redfield; sister-in-law Barbara Christopher, Las Vegas, NV; 15 grandchildren; 8 step grandchildren; 39 great- grandchildren; 9 great- great grandchildren; many nieces and nephews. She was preceded in death by her husband, her parents, 2 sisters, 3 brother-in laws,3 sisters-in-laws, 2 sons-in-law and one daughter-in-law.
Funeral services were provided by Hyde Funeral Home, Redfield and Kahler-Brende Funeral Home, Dell Rapids.