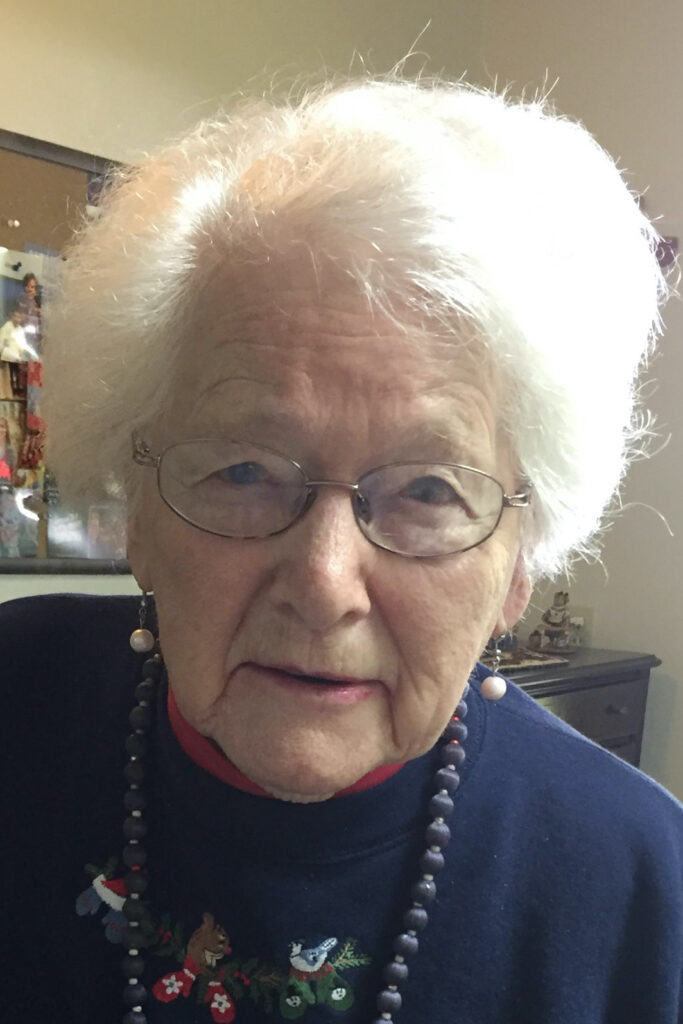 98
Dell Rapids, SD
September 24, 2020
Agnes Ginsbach, 98, of Dell Rapids, passed away surrounded by her loving family on Thursday, September 24, 2020 at the Dells Nursing and Rehab Center. Her Mass of Christian Burial will begin at 10:30 a.m. on Tuesday, September 29, 2020 in St. Mary Catholic Church, Dell Rapids. Visitation on Monday, September 28, 2020 with the family present will be from 5:00 p.m. – 7:00 p.m. at St. Mary Catholic Church with the Rosary prayed at 7:00 p.m. The family request that those attending please wear a mask. www.kahlerfh.com
She was born to Jacob and Frances (Etringer) Welbig, the second youngest of 13 children. She grew up on their farm about 4 miles north of Dell Rapids, SD.
On September 2, 1941, she wed her husband of 54 years, Laurence Ginsbach. On their farm 10 miles north of Dells (1 mile south of historic Lone Tree Station), they raised 5 children: Delores (Richard) Klein; Ethel Geraets; and Steven (Diane) Ginsbach, all of Dell Rapids; Jayne (Luis) Berrios of Clovis, California; and Joan (Arthur C.) Klein of Colorado Springs, CO.
Agnes was a hard-working farm wife and homemaker. They made their living milking cows, raising chickens, feeding bottle calves and even tried sheep and hogs for a few years. She was active in Birthday Club and the St. Peter Parish functions as well as the Altar Society in Colman, SD. A few years ago, she was honored for being the sole surviving Charter Member of St. Elizabeth Court of the Catholic Daughters of America in Colman. 
After the children left home and the milk cows sold, Agnes worked at some local establishments, waiting tables and then finding her way into the kitchen, where she excelled. For 19 years, she was the main cook at Riverview Manor in Flandreau, SD, eventually becoming Certified Head Dietician before retiring. Agnes made Sunday night suppers followed by a game of softball. She was an avid Minnesota Twins fan.
After Laurence's death in 1995, she moved into Dell Rapids to be closer to her children. She sorely missed her Colman friends but soon found herself playing cards and making wonderful new friends at the Senior Citizens Center. 
Agnes eventually moved into Orchard Hills where she lived for about 4 years, making more new friends and acquaintances. Her ready smile and eagerness to find someone to play a game of King's Corner with always made adjustment's easier.
In 2014, Agnes entered Dells Nursing and Rehab (then known as Terrace Manor), where she again made new friends and got to spend her remaining time with her sister, Regina and her brother, LeRoy. She received the best of care and they made her final days as comfortable as possible; with the assistance of Avera's Hospice Unit. 
Those left to cherish her memory are her above-mentioned children, 16 grandchildren, 32 great grandchildren, a great great granddaughter; many nieces and nephews, extended family, friends and neighbors.
Those who predeceased her are her husband and infant daughter as well as her siblings: brothers: Nick (Viola); John (Margaret); Bill (Marian); George (Irma); Leo (Eileen); and LeRoy (Ruth) Welbig. Sisters: infants Annie and Isobel; Mary (John) Schmidt; Rosella (Tom) Hemmer; Justine (Ted) Tebbe; and Regina (Harry) Evans.
Agnes never met a stranger; they were just people she would soon call her friend. She will be missed.